Trump 'accepts Erdogan's invitation' to visit Turkey in 2019
December 25, 2018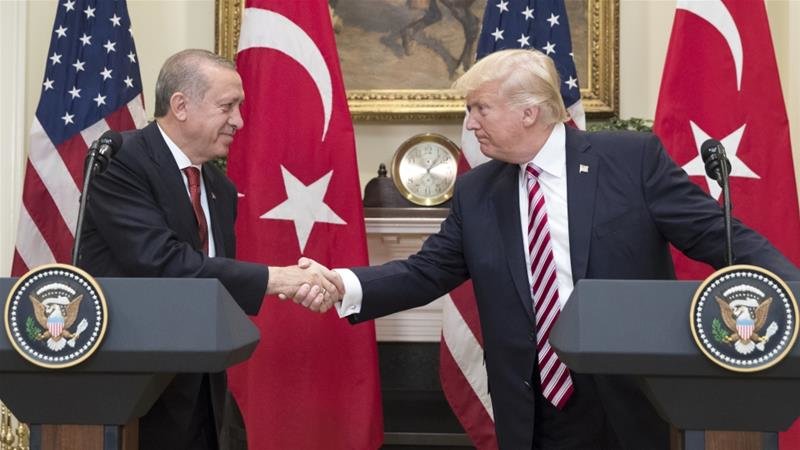 U.S. President Donald Trump has accepted an invitation by his Turkish counterpart, Recep Tayyip Erdogan, to visit the country, according to a spokesperson for Turkey's leader. 
Speaking to reporters after a cabinet meeting on Monday in the Turkish capital, Ankara, Ibrahim Kalin said Trump wants to make the trip in 2019 but a date has not been set.
The White House confirmed the invitation for Trump to visit next year, adding: "While nothing definite is being planned, the president is open to a potential meeting in the future."
Trump hosted Erdogan at the White House in May last year.
Turkish presidential spokesperson says U.S. president wants to make the trip next year but a date has not been set.Kalin said Erdogan extended the invitation during a weekend phone call between the presidents on the withdrawal of U.S. troops from Syria, which was announced last week by Trump.
Syria withdrawal
The presidential spokesperson also said that a U.S. military delegation will visit Turkey this week to hold talks about the issue.
"They will discuss how to coordinate (the withdrawal) with their counterparts," Kalin told the news conference.
Trump on Sunday wrote on Twitter that he had a "long and productive" call with Erdogan in which they discussed "the slow & highly coordinated" pullout of U.S. military personnel.
"We discussed ISIS, our mutual involvement in Syria, and the slow and highly coordinated pullout of U.S. troops from the area," Trump said in a tweet on Sunday, referring to the Islamic State of Iraq and the Levant (ISIL, also known as ISIS) group. "After many years they are coming home."
Trump said he and Erdogan also discussed "heavily expanded" trade between the U.S. and Turkey after the two NATO allies' relationship went into a tailspin in recent months over a number of issues.
Erdogan said in a separate tweet: "I had a productive call with (Donald Trump) today, in which we agreed to strengthen our coordination on a range of issues, including our trade relations and the developments in Syria."
(Source: Aljazeera)