Archaeological remains unearthed in heart of Tehran
December 29, 2018 - 21:11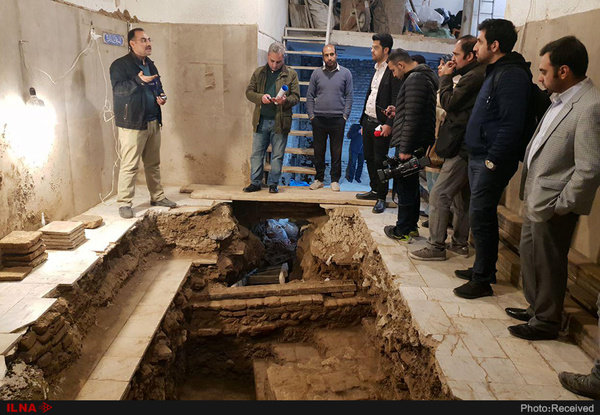 TEHRAN – A team of archaeologists has excavated some archaeological remains in the basement of a shop located in the grand bazaar of Tehran.
"[Parts of] a wall and a fort, related to the Timurid period (1370-1507(, were discovered in Bazaar-e Hazrati [a locale in the grand bazaar]," according to Qadir Afrovand, a senior Iranian archaeologist, IRNA reported.
On December 19, excavations in a two-by-two meter trench led to discovery of a wall and bricks that date back to the Qajar, Safavid, and Timurid periods, Afrovand told reporters.
The trench has yielded pieces of tiles and potteries so far, which date from various periods including Qajar and Timurid eras, he explained.
Studies on the site is ongoing, however, its "identity and usage" is still unknown, he said, adding "Excavations in the site will be continued until it reaches the intact soil."
In 2014, a mysterious skeleton of a woman was unearthed in Molavi Street, south of the Iranian capital. Initial surveys on the human remains, which dates back to the 5th millennium, suggested that Tehran may date back to 7000 years ago.
Many archaeologists were used to associate earliest settlements in Tehran with the time of Safavids who ruled the country from 1501–1736.
The Timurid Empire was a Persianate Turco-Mongol empire comprising modern-day Uzbekistan, Iran, the Caucasus, Mesopotamia, Afghanistan, much of Central Asia, as well as parts of contemporary India, Pakistan, Syria and Turkey.
AFM/MQ/MG