By Fatemeh Salehi
UK arms exports to Saudi Arabia 
January 6, 2019 - 11:45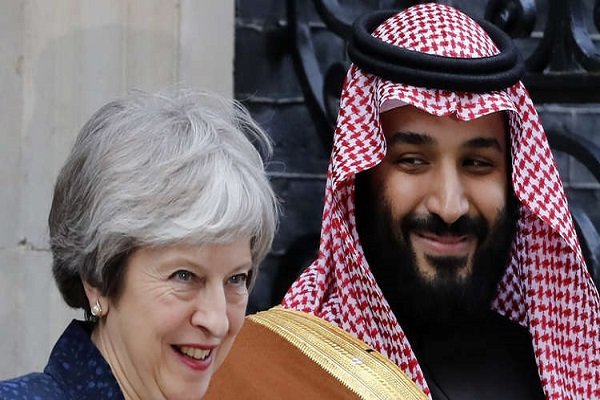 TEHRAN - Britain is the second-largest exporter of arms to Saudi Arabia after the U.S., regardless of human rights violations of Saudi Arabia. After the murder of Jamal Khashoggi, UK military sales to Riyadh has not only declined, but surprisingly increased. 
A British online newspaper the Independent has released a report, reading: "Britain continued seeking arms deals with Saudi Arabia in weeks after Khashoggi was murdered."
As the UK government called for answers over the dissident's death, British trade officials responsible for arms sales continued to hold high-level meetings with their Saudi counterparts.
A delegation from the Defense and Security Organization – an office within the Department for International Trade that promotes arms exports for UK companies – traveled to Riyadh on 14 and 22 October, according to a Freedom of Information request obtained by the Mirror newspaper.
The latter of those meetings came on the same day as the foreign secretary, Jeremy Hunt, condemned Khashoggi's killing "in the strongest possible terms" in a speech to parliament.
"Whilst we will be thoughtful and considered in our response, I have also been clear that if the appalling stories we are reading turn out to be true, they are fundamentally incompatible with our values and we will act accordingly," Hunt said on 22 October.
The foreign secretary made a point of announcing the cancellation of a planned visit to Riyadh by the trade secretary, Liam Fox. However, he did not disclose that meetings over arms sales were still taking place.
According to the Independent: "Even before the murder of Khashoggi, the UK government had been under pressure to halt arms exports to Saudi Arabia over alleged war crimes and rising civilian casualties in Yemen. Since the war began, the UK has licensed £4.7bn worth of weapons to Saudi forces, making it by far the largest buyer of UK arms.
Meanwhile, Italian Prime Minister Giuseppe Conte said on Friday his government was in favor of halting arms sales to Saudi Arabia and it intended to take a formal position on the matter.
He was answering a question on Italy's ongoing arms exports to Saudi Arabia in the light of its involvement in the conflict in Yemen and the murder of journalist Jamal Khashoggi.
"We are not in favor of the sale of these weapons and so now it is only a question of formalizing this position and acting accordingly," Conte told reporters at the prime minister's traditional end-year news conference.
Italy's foreign ministry announced last October that it will examine the option of stopping arms sales to Saudi Arabia following the killing of Khashoggi. Italian law 185/1990, which prohibits arms exports to countries engaged in armed conflict, ratified by the Italia Parliament.
Nearly a third of arms exports authorized by Britain over the past decade were to nations identified by the government as among the worst for human rights, new figures reveal.
Military arms deals worth an estimated £39bn were approved between 2008 and 2017, £12bn of which went to states included on the Foreign and Commonwealth Office human rights "priority countries" list, according to an analysis by Action on Armed Violence.
The analysis of the figures, collated by the Campaign Against the Arms Trade using export control data from the Department for International Trade, shows a clear upward trend in arms sales approved to watchlist countries, although individual years vary. The data shows a record number of arms export licenses to nations on the watchlist in 2017, here were 855 military license approvals for Saudi, worth £1.3bn, compared with 331, worth £680m, the previous year.
Britain is Saudi Arabia's second largest arms dealer after the U.S., providing military exports worth £10.3bn over the past decade despite continued condemnation of the kingdom's use of British weaponry in its bombing of Yemen. UN agencies allege that the Saudi-led coalition in Yemen has violated international humanitarian standards, including widespread and systematic attacks on civilian targets.
Britain has not confined military ties to Saudi Arabia alone. Britain left the Persian Gulf waters in 1971. After leaving the Persian Gulf, Britain returned to the area for the first time in 2018 to expand its presence in the region through the construction of military bases in Bahrain and Oman. A significant increase in recent British activities is to strengthen its military presence in the Persian Gulf region and to strengthen military ties with Arab countries, in particular Kuwait, Oman and Bahrain.
The British are also seeking a military presence in Kuwait, and after several months of talks between Kuwaiti and British officials, there are reports of an agreement between the two sides to establish a military base for Kuwaiti militaries training and it has also been announced that the talks continue.
The most important goals of Britain to strengthen its military presence in the Persian Gulf include Selling more weapons to the Arabs without regard to human rights concerns especially using them in Yemen war, gaining economic benefits after Britain withdraw from EU and trying to create a new regional order. Although this new regional order will not be suitable and efficient through foreign intervention.
Britain is seeking to trade and invest $ 2 trillion in the Persian Gulf region in the next decade (2020-2030).
The European Union (EU) has created laws for selling arms to authoritarian and human rights violators. For example, Germany has been more cautious about selling weapons to Saudi Arabia. Thus, one of the objectives of the British withdrawal from the EU is that they want to get rid of the cumbersome laws that prevent them from selling arms to such authoritative regimes.
In any case, Britain's priority is to generate revenue from arms sells to countries that violate human rights, in particular Saudi Arabia. The House of Saud has blood on hands, with the murder of Khashoggi, invasion of Yemen for three years, and assassinations of opponents of the regime. However, all that has not been enough for Britain to stop selling arms to Saudi Arabia.