By Afshin Majlesi
Many Indonesians want to visit Iran: envoy
February 13, 2019 - 21:53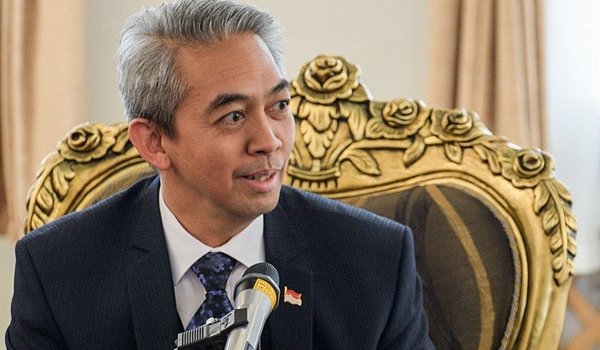 TEHRAN - Jakarta ambassador to Tehran said on Tuesday that many Indonesians want to visit Iran as he encouraged Iranians to visit the world's largest island country.
"I can assure you that many Indonesians want to visit Iran mostly to visit holy cities of Iran; pilgrim tourism," Octavian Alimuddin said in an address to a gathering of Iranian travel marketers and tour operators.
He made the remarks in an event titled "Wonderful Indonesia Tourism Promotion in Iran" that the embassy organized at Tehran's Parsian Evin Hotel.
It was also attended by Iran Cultural Heritage, Handicrafts and Tourism Organization Deputy Director Vali Teymouri and several other cultural officials from both countries.
"I invite you all to establish cooperation and collaboration with us. I believe this event will bring immense impacts in our tourism industry…. After this event feel free to establish the networking to exchange information of integrated tourist packages, destinations development, market strategies, etc."
Most Iranian tourists visit Indonesia for having leisure, amazing scenery and beautiful culture, he added.
Alimuddin went on to say that Indonesia and Iran will review ways to ease travels and even establishing other direct flights if possible. The official also stressed the need for promoting Halal tourism, a subcategory of traveling geared toward the specific needs of Muslim individuals who seek to abide by the Islamic rules.
Talking on developing Indonesia tourism market, he said "Recently, the Global Muslim Travel Index 2018, which covers 130 destinations, saw Indonesia built on its year-on-year growth by moving up to joint second rank with the United Arab Emirates in the overall rankings."
Other officials from both countries also delivered speeches on ways to expand joint tourism and cultural ties. In addition, the event featured three traditional dances performed by Indonesian troupes.
Being the largest country and the most diverse in Southeast Asia Region, Indonesia offers a complete package of tourist destinations; from marine tourism to eco-tourism, from art and culinary tourism to sport and health tourism, from shopping tourism to Halal tourism, the envoy concluded.
The event was held concurrent with the opening day of the 12th Tehran International Tourism Exhibition, which will be running through February 15.
A number of Indonesian hotel management companies and travel agencies are taking part in the four-day exhibit to promote the resort islands of the Muslim-majority country to Iranian visitors.
AFM/MQ/MG