Amidst 'war-like situation', India, Pakistan conduct surgical strikes
March 1, 2019 - 11:35
By Syed Zafar Mehdi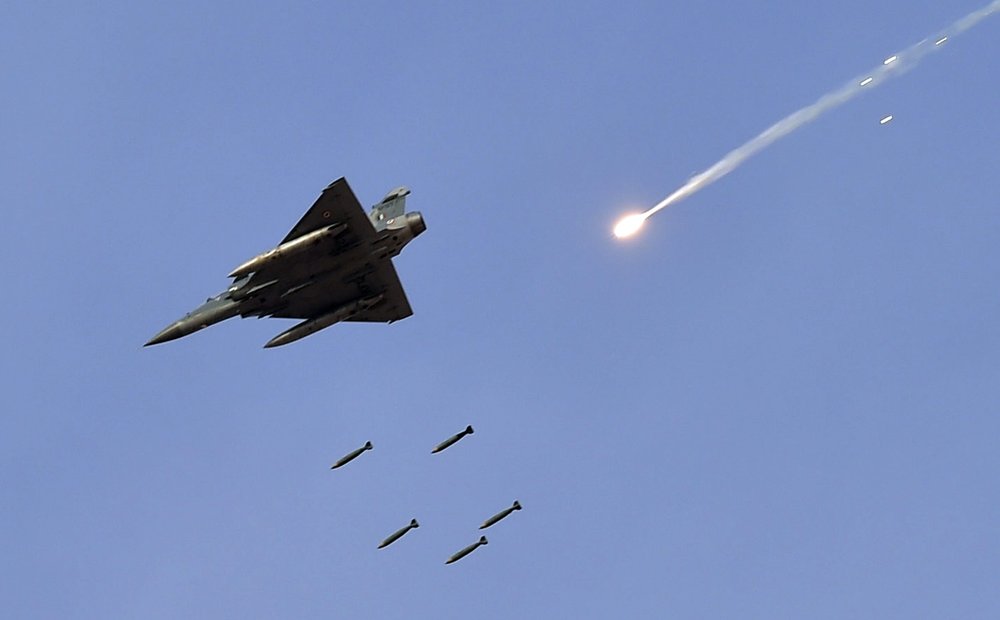 TEHRAN - From diplomatic offensive to military action, India has moved swiftly to take 'revenge' from arch-rival Pakistan for the recent terror attack in Indian-controlled Kashmir.
Early Tuesday morning, India reportedly conducted surgical strikes in Pakistan-controlled Kashmir and claimed to have killed nearly 200 militants belonging to Jaish e Mohammad (JeM), a militant group responsible for the Kashmir attack.
Pakistan dismissed the claim but vowed 'befitting reply'. "It is your turn now to wait and get ready for our surprise," Gen. Asif Ghafoor, spokesperson for Pakistani military, said on Tuesday night.
It took less than a day for Pakistani military to retaliate. Early Wednesday morning, Pakistan reportedly conducted surgical strikes in Indian-controlled Kashmir and claimed to have shot down two Indian jets and capturing one of the pilots.
Pakistan's foreign ministry said in a statement on Wednesday morning that it had struck a "non-military target" across the ceasefire line in Kashmir without entering Indian airspace to demonstrate its "right, will and capability for self-defense".
"We have no intention of escalation, but are fully prepared to do so if forced into that paradigm," said Mohammad Faisal, Pakistan's foreign ministry spokesman.
An Indian aircraft crashed in central Kashmir's Budgam district on Wednesday morning, killing the pilot, but it was not immediately clear whether it was brought down by Pakistan.
Pakistan's military spokesman, Major-General Asif Ghafoor claimed that two jets were shot down by Pakistan. "One of the aircraft fell inside AJ&K [Pakistan-controlled Kashmir] while other fell inside IOK [Indian-controlled Kashmir]. One Indian pilot arrested by troops on ground while two in the area," he announced on Twitter.
Indian news agency ANI said on Wednesday that a Pakistani F-16 fighter jet was also shot down.
A senior Indian official was quoted saying by the Guardian the Pakistani jets were likely to have struck three evacuated villages, Nadian, Lam and Jhangar, in the border district of Rajouri shortly after 10.30am. "The Indian air force responded strongly and they were pushed back," the official said.
The cross-border incursions are unprecedented, first time in nearly five decades, according to observers. It marks the most serious military escalation between the two South Asian nations since 1999 Kargil War.
To prepare for any eventuality, even full-blown war, the militaries of both the countries have been making all necessary arrangements. Airports in north India have been shut down and flights have been put on hold. Pakistan has also suspended flights in Lahore, Islamabad and other cities.
Earlier, India claimed that it had hit a militant training camp in Balakot, a small village in Pakistan-controlled Kashmir, and killed "a very large number" of fighters from Jaish-e-Mohammed.
Pakistan rejected the claim, saying the Indian fighters were intercepted before they could reach Balakot and dropped bombs in an open field as they went back.
On Wednesday morning, India's foreign minister Sushma Swaraj emphasized that Pakistan's military was not the target of India's surgical strikes.
"No military installations were targeted," Swaraj said. "The limited objective of the pre-emptive strike was to act decisively against the terrorist infrastructure of the JeM in order to pre-empt another terrorist attack in India."
"India does not wish see further escalation of the situation and India will continued to act with responsibility and restraint," she added.
On Wednesday afternoon, Pakistan held a joint session of parliament followed by a meeting of the National Command Authority, whose responsibilities include overseeing the country's nuclear arsenal.
Addressing the nation on Wednesday afternoon, Pakistan's premier Imran Khan offered dialogue with India and said it was not in Pakistan's interest to let the land be used for terrorism.
"It is important where we go from here. From here, it is imperative that we use our heads and act with wisdom," he said, addressing the government in India.
Meanwhile, troops from both sides have been shelling across the LoC in many areas, leading to civilian casualties on both sides, according to reports. People living along the border have been asked to evacuate.
It is pertinent to mention that both India and Pakistan claim the disputed territory of Kashmir, but control only parts of it. The nuclear powers have fought three wars since the partition of British India, two of them over Kashmir.