7-month heavy rainfalls beat 2-year drought: IMO official
April 24, 2019 - 22:48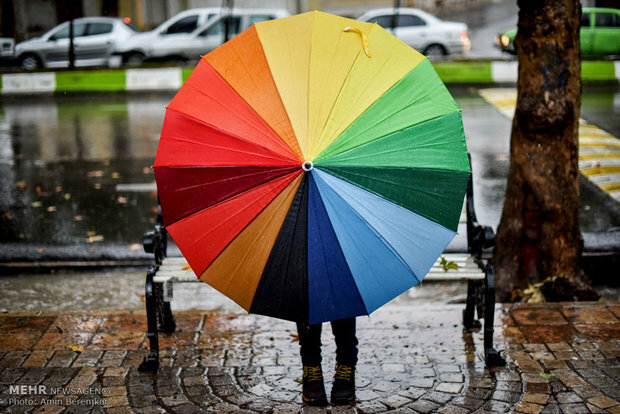 TEHRAN – Director of National Drought Warning and Monitoring Center (NDWMC) affiliated to Iran's Meteorological Organization (IMO) Sadeq Ziaeian announced that since the beginning of current water year (starting on September 23, 2018) precipitations have compensated for the below normal averages of past two years.
The amount of rainfall the country received only during the first month of the current year (started on March 21) constitute 36 percent of the precipitation normally received a whole water year, he highlighted, ISNA reported on Wednesday.
This is while the first month of each year the country normally receive 15 percent of the precipitations of the whole water year, he added.
He went on to note that some provinces namely Hamedan and Markazi have received 60 percent of the total precipitation of a water year only during the past month (March 21-April 20).
The country's mean precipitation was 84 millimeters during last month, which increased by 288 percent compared to the same period last year, he said, adding, the amount shows a 169-percent rise in comparison to the long term averages.
Speaking of the provinces receiving the highest precipitations during the first month of spring, he added that Lorestan province receiving 301.3 millimeters of rain set the record high for the highest precipitation rates, noting, Chaharmahal and Bakhtiari and Hamedan provinces with 243 and 212 millimeters of rain respectively, ranked second and third.
During the last month, some 73 millimeters rained in Golestan province which shows an increase of 60 percent compared to the previous year and 54 percent rise in comparison to the long term averages, he said.
Also, last month Khuzestan province received 86 millimeters of rainfall demonstrating a 166 percent rise compared to that of last year amounting to 32.5 millimeters. The amount was also 142 percent higher than the long-term means of 36 millimeters.
Referring to the provinces experiencing the lowest rainfall averages during last month, Ziaeian lamented that provinces of Sistan-Baluchestan and Kerman recording 35 and 43 millimeters of rainfall were the provinces with shortest rainfall averages.
However, last year in the same period only 3 millimeters rained in Sistan-Baluchestan province while its long-term mean was 10 millimeters, thus 240 percent increase was reported in terms of long-run means, he explained.
He went on to say that province of Kerman faced above normal rainfall with 18 millimeters of rain reported during the same period last year and 17 millimeters in the long run, which shows 236 and 153 percent increase respectively.
Pointing to Tehran rainfall averages, he stated that the capital also hit the normal averages getting 98 millimeters of rain, so precipitation increased by 186 percent in Tehran compared to last year rate of 34 millimeters, adding, it also beat the long-run record of 39 millimeters by 148 percent rise.
Comparing the country's rainfall rate during the 7 months of the current water year with that of last year, he said that the whole country received 289 millimeters of rain which was recorded 113 millimeters over the same period last year.
Additionally, long term averages show 197 millimeters of precipitation which was short by 46 percent compared to this water year, he added.
Iran must receive rainfall amounting to 232 millimeters on average per water year, but figures show that the country have exceeded the normal rainfall in a water year by 24 percent only in the first 7 months of the year.
"So, we can say that recent rains have so far made up for two years of droughts," he stated, adding that "this year's precipitations cannot compensate for a decade of drought and managing water resources is a must".
FB/MQ/MG