Indian warships visit Iran's Bandar Abbas 
May 25, 2016 - 13:58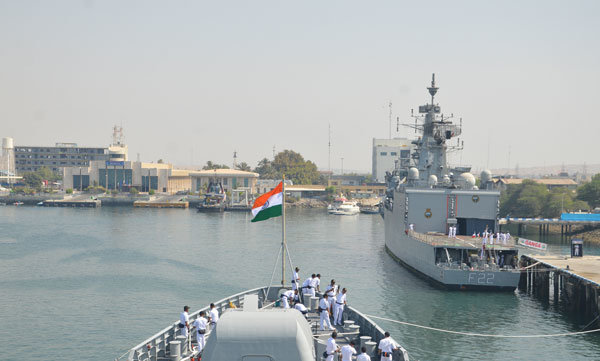 Two Indian warships started a visit to the Iranian port city of Bandar Abbas on May 24 which will stay there until May 27.
The visit came on the heels of Indian Prime Minister Narendra Modi's trip to Tehran on May 22-23.
Following is the text of the report released by the Indian embassy in Tehran:
Indian Naval Ships Ganga and Trikand are visiting Bandar Abbas from 24–27 May 16, in consonance with India's strong bilateral relationship and steadily growing maritime interaction with Iran. INS Ganga, an indigenous guided missile frigate of the Indian Navy has been in active service for about three decades and is presently commanded by Captain Amol M Sabnis, VSM. A potent Anti Submarine Warfare (ASW) platform, the ship is also capable of operating Seaking ASW helicopters. INS Trikand, on the other hand, is a modern stealth frigate with cutting edge weaponry, sophisticated sensors and is capable of carrying a KM 31 Airborne Early Warning helicopter. The ship is commanded by Captain Arjun Dev Nair.

During the visit, the crew of IN ships will undertake professional interactions with the Islamic Republic of Iran Navy (IRIN), pertaining to nuances of maritime operations, including means of combating maritime terrorism and piracy. In addition, calls on senior Government and military authorities, sporting and cultural interactions and sharing of best practices, aimed at enhancing cooperation, strengthening ties and mutual understanding between the two navies, are also planned. The visiting IN ships are also likely to conduct exercises with the IRIN ships.

Relations between India and Iran have spanned centuries marked by meaningful interactions including in the fields of commerce, energy and education. Having shared a border till 1947, the two countries share commonality in language, culture and traditions. The centuries old association has been further strengthened by regular cultural and commercial interactions as well as bilateral meetings and high-level visits between both the countries. The Iranian President Mohammad Khatami was the Chief Guest at the Republic Day function in India in 2003. More recently, the Hon'ble Prime Minister of India Shri Narendra Modi visited Iran from 22 to 23 May 16. Hon'ble Prime Minister's visit has provided a fresh impetus to bilateral relations with the conclusion of a number of agreements and understandings.

IN ships last visited Iran in August 2015 wherein Beas and Betwa berthed at Bandar Abbas. The current visit by IN ships will further strengthen bilateral relations and enhance maritime cooperation. It will facilitate a common understanding of the maritime security challenges in the region and contribute to security and stability of the Indian Ocean Region.