Leader urges swift action on environmental problems in Khuzestan
February 20, 2017 - 20:49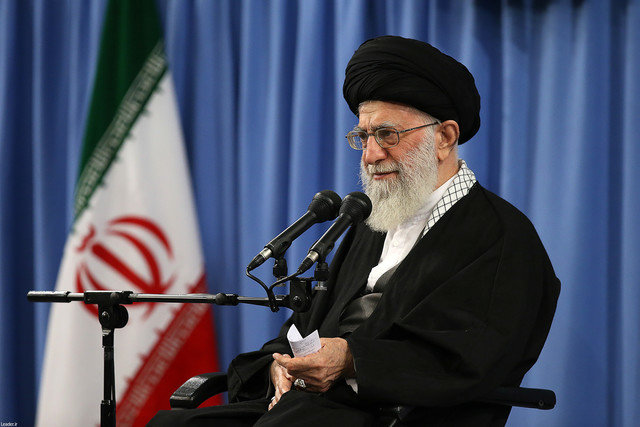 TEHRAN – Leader of the Islamic Revolution Ayatollah Ali Khamenei has called on officials to take immediate action about the environmental problems that residents of the southern Khuzestan Province are facing, ISNA reported.
Torrential rains last week combined with dust pollutions caused blackouts across Khuzestan. The downpours also caused floods in other southern provinces.
Touching upon the latest floods in southern Iran, the Leader said "flooding is a great calamity" that inflicts heavy losses upon people and their families, adding that government officials have a duty to provide aid to the flood-stricken people.
The officials, he said, who have people on their minds, cannot be indifferent in the face of such hardships.
Ayatollah Khamenei also described the current situation in Khuzestan "truly heartbreaking", stressing that the authorities are required to put their best efforts to find a solution.
Due to its arid climate, Khuzestan has, for many years, been suffering from dust pollutions that made it very difficult for its citizens to breathe once in a while. The dust storms that frequently hit Khuzestan are said to originate in Iraq, Saudi Arabia, and Syria.
The Leader of the Revolution called on the government officials to stop blaming the previous administrations and make concerted efforts in order to find solutions to the environmental problems of the southwestern province.
According to Iran's Health Ministry, at least 80,000 people die in Iran annually as a result of environmental pollution.
Eleven cities in Khuzestan faced power outage after last week's intense dust storm, leading to water shortages when water treatment plants went offline.
On Saturday, President Rouhani attended an emergency session of the Crisis Management Center in Tehran, where he ordered Vice President Es'haq Jahangiri, Interior Minister Abdolreza Rahmani-Fazli and Khuzestan Governor Gholamreza Shariati to find a solution to the province's problems as soon as possible.
Rouhani also expressed sympathy with the people of Khuzestan and assured them that the government was determined to deal with the environmental issues.
MH/PA