Several high-profile politicians announce candidacy
April 15, 2017 - 21:17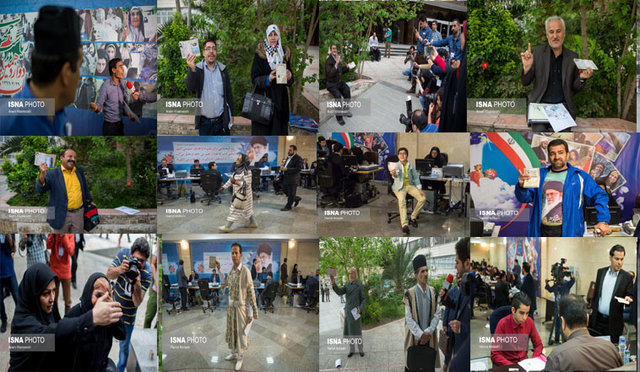 TEHRAN – The time for registration for the upcoming presidential election ended Saturday at 18:00 local time, with several high-profile politicians registering to run for president in the May election.
Incumbent President Hassan Rouhani registered on Friday to seek a re-election following a 4-year term during which he tried to deliver what he had promised back in 2013.
Rouhani's main contestant, as many observers believe, will be Ebrahim Raisi, who has been supported by the Popular Front of Islamic Revolution Forces, a political coalition that was founded in late 2016 and pledged to introduce a single candidate to challenge the self-described moderate president, who has been supported by reformists.
On Wednesday, former President Mahmoud Ahmadinejad registered. Ahmadinejad's decision to run was a surprise since he had been advised by Supreme Leader Ayatollah Ali Khamenei not to run.
The former president also introduced a close ally, Hamid Baghaei, who served as the head of Iran's Cultural Heritage, Handicrafts and Tourism Organization during Ahmadinejad's first presidential term.
Ahmadinejad has been widely criticized by both reformist and principlist camps on a number of issues. Even his former cultural advisor, Mehdi Kalhor, has said he had distanced himself from the former president. Kalhor, who announced his candidacy on Friday, said: "I took a separate path from that of Ahmadinejad in the year 89 (2010) and I'm not his candidate."
Seyyed Mostafa Mir-Salim, a conservative candidate who served as the minister of culture and Islamic guidance under Ayatollah Akbar Hashemi Rafsanjani's administration, registered on Tuesday for the May 19 vote.
Tehran's Mayor, Mohammad Bagher Ghalibaf, and the incumbent Vice President Es'haq Jahangiri also registered at the last hour of registration time on Saturday. Ghalibaf was Rouhani's main contestant in 2013 election and received some 6 million votes.
Other prominent politicians who announced their candidacy include: Masoud Zaribafan, a former vice president under former President Mahmoud Ahmadinejad; Seyyed Mostafa Hashemitaba, a former vice president in Rafsanjani's second presidential term and Khatami's first term; Seyyed Mohammad Gharazi, a former minister of post, telegraph and telephone under Mir Hossein Mousavi and Hashemi Rafsanjani; Hassan Norouzi, a former member of the parliament; Mohsen Gharavian, a teacher at the center of seminary studies in the holy city of Qom; Mostafa Kavakebian, a member of the parliament and the head of Mardomsalari Party; and Alireza Zakani, a former member of the Parliament.
The Interior Ministry announced that 1636 people, including 1499 men and 137 women, registered to run for presidency. The great majority of those who announced their candidacy are ordinary people.
MH/PA