New defense pick vows stronger missiles
August 18, 2017 - 20:2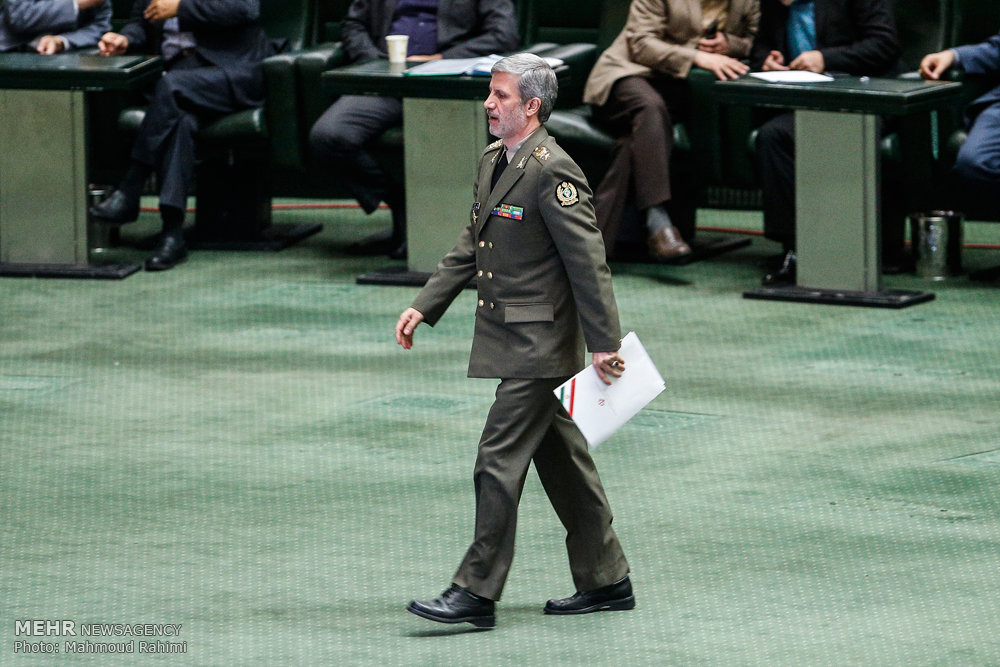 TEHRAN – President Hassan Rouhani's pick for defense promised on Thursday to increase the "accuracy and power" of Iran's ballistic and cruise missiles if granted a vote of confidence.
Plans for more accurate and destructive missiles appeared atop a priority list Amir Hatami took to the parliament as he was defending his four-year agenda.
"The missile program is definitely one of the most important priorities of the Defense Ministry in the upcoming four years," IRNA quoted Hatami as saying after the parliamentary hearing.
"While monitoring the enemies' activities in military areas, we have concentrated on upgrading the number and capabilities of our missiles to boost the Islamic Republic's deterrence manifold," he added.
Iran's missile program has been a bone of contention between Tehran and Washington particularly under the Trump administration.
In what appeared to be an early manifestation of U.S. President Donald Trump's promise of a tougher American approach to Iran, in February the Trump administration said it was "officially putting Iran on notice" in reaction to a missile launch test, saying Iran "was playing with fire."
Tehran reacted defiantly and shrugged off the warnings as "hallow bragging." "Iran unmoved by threats as we derive security from our people. Will never initiate war, but we can only rely on our own means of defense," Iran's Foreign Minister Mohammad Zarif tweeted.
Washington has try to tie Iran's missile tests to the international nuclear deal between Tehran and six world powers, including the U.S., asserting that the program violates the UN Security Council resolution 2231 which endorses the deal.
One day after the Trump administration reluctantly confirmed that Tehran was complying with the nuclear accord in July, it slapped new economic sanctions against the country over its ballistic missile program, targeting 18 entities and people involved in it.
The diplomatic spat climaxed in July 27 as Iran successfully launched a satellite-carrier rocket into space, two days after the United States House of Representatives approved a bill to impose additional sanctions against the country, and Russia and North Korea. The bill was signed into law by Trump in early August.
Reacting to the launch, Washington unilaterally sanctioned six subsidiaries of a company key to Iran's ballistic missile program.
In retaliation for the hostile moves, Iran's parliament overwhelmingly voted on August 14 to increase spending on its ballistic missile program.
Also, following the testing of the space rocket, the U.S., Germany, France and England, which brokered the nuclear deal along with China and Russia, called the launch "inconsistent" with resolution 2231 which calls upon Tehran not to conduct activities related to ballistic missiles designed to be capable of delivering nuclear weapons.
Russia and China, which have veto power in the Security Council, didn't sign the U.S. letter and have rejected the Trump administration's contention that Iran is undermining the nuclear accord.
Zarif has repeatedly said his country's missile launches are not in defiance of the resolution because the program is for defensive purposes only, and the missiles are not capable of carrying nuclear warheads.
"Iran is not, and will not be, developing nuclear weapons; so by definition cannot develop anything DESIGNED to be capable of delivering them," Zarif said on Twitter late July.
On August 9, Reuters reported that U.S. Ambassador to the UN Nikki Haley will travel to Vienna later this month to discuss Iran's nuclear activities.
AK/PA