By Mohammad Ghaderi- Twitter: @ghaderi62
Tom Cotton avariciously seeking to become CIA chief 
October 20, 2017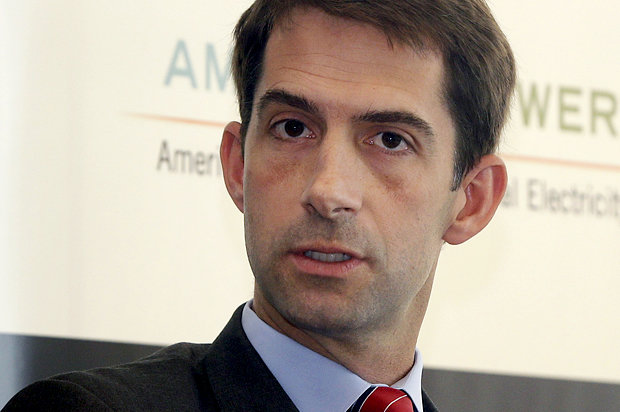 Tom Cotton, a 40-year old radical senator, has been making a lot of maneuvers in the U.S. Congress in recent days. 
A couple of years ago, prior to the historic nuclear accord, struck between Iran and the P5+1 group, Cotton put every effort to kill the deal but eventually with 42 Democratic senators voting in favor of the agreement his attempts were to no avail.
Following the agreement, Cotton was one of the sworn enemies of the deal and favored a return of sanctions against Iran.
Subsequently, during Donald Trump's presidential campaign in 2016, he declared his consent to Trump's approach toward the deal.
Today, as the U.S. Congress role once again gets a boost in deciding the fate of the Joint Comprehensive Plan of Action (JCPOA), Cotton makes every effort to take advantage of the opportunity for his political rise.
Cotton, from Arkansas, is named the youngest and chief opponent to the pact in the Senate.
In his newest position, Cotton has told those officials within the U.S. administration who do not favor the abrogation of the nuclear deal either resign or join with Trump in opposing the agreement.
Cotton's statements, which grabbed headlines in American media, were directed at Secretary of State Rex Tillerson, and Secretary of Defense James Mattis.
It is worth noting that Cotton's stance on the JCPOA has been backed up by the American Israel Public Affairs Committee, AIPAC, and other opponents to the nuclear agreement.
It is quite clear that in today's American political climate, even those closest to Trump, including secretaries of state and defense, oppose withdrawal from the multilateral accord.
What is interesting is that U.S. Ambassador to the United Nations Nikkie Haley supports Cotton while she disagrees with Tillerson and Mattis. This suggests differences in the Republican Party have hit an all-time high over the JCPOA.
Another point to address here is that Cotton is doing all he can to become the next CIA director.
Zionist regime's Prime Minister Benyamin Netanyahu and his war minister Avigdor Lieberman are among those who favor Cotton as the head of the U.S. intelligence agency.
What's certain is that Cotton has called on the Zionist regime's authorities to spare no effort in making that happen. Thus, more than ever before Cotton is after pleasing Netanyahu and authorities in Tel Aviv by adopting a tough stance on the nuclear accord.
With all that said Trump's position on appointing Cotton as CIA director is not clear.