Leader thanks Iraqis for hosting Arbaeen pilgrims
November 13, 2017 - 21:0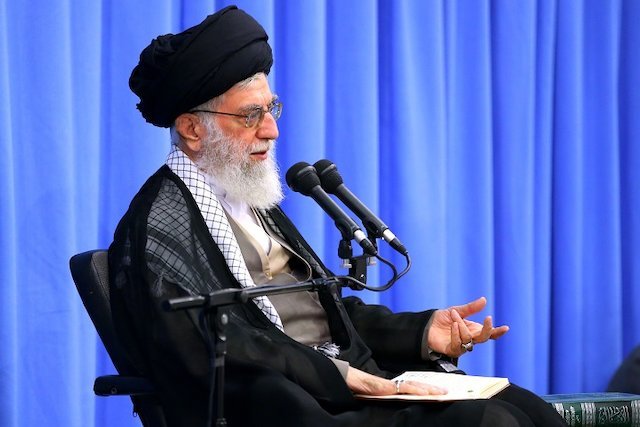 TEHRAN - Leader of the Islamic Revolution Ayatollah Ali Khamenei said on Monday that the Arbaeen march shows the promotion of the spirit of "jihad" and "martyrdom" and thanked the Iraqi government and people for hosting millions of pilgrims.
"Participation of this huge crowd from various parts of the world in spite of terrorist threats is a great phenomenon which shows promotion of ideology of fight on the path of God," the Leader said during a meeting with cultural officials and activists from the provinces of Qom and East Azerbaijan.
Arbaeen is a religious observance that occurs 40 days after the Day of Ashura.
Pilgrims, including more than two million Iranians, convened in the holy city of Karbala - where Imam Hussein is buried - to mark Arbaeen on November 9.
Arbaeen has also become a rallying cry for the campaign against violence and Takfiri terrorism. It has also worked to unify Muslims in the face of attempts to create divergence, animosity and misunderstanding among them.
During his Darse-Kharej-Fiqh on November 6, the Leader said, "Thank God, our youth have found the path: millions of people from our country, from Iraq and other countries move in this direction. The walk of Arbaeen represents one of the extraordinary events that the Almighty God granted us and created for us: it has become an emblem."
On that date the Leader added, "The walk of Arbaeen existed always, but there was not this great movement: a magnificent and beautiful emblem of followers and lovers of AhlulBayt. We didn't have this; the Almighty God blessed us and gave this to us; we should be grateful."
NA/PA