World not scared by 'crazy' Trump: Iran's Shamkhani
January 15, 2018 - 19:59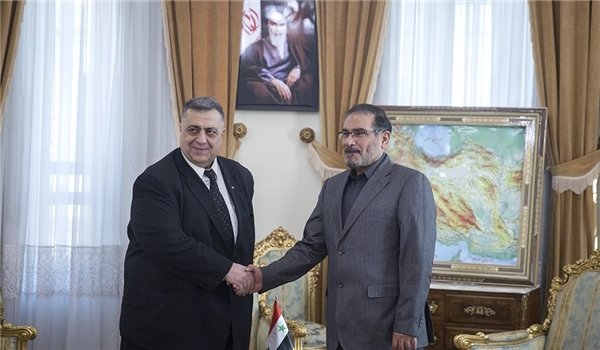 TEHRAN - Ali Shamkhani, secretary of Iran's Supreme National Security Council, said on Monday that the strategy of scaring the international community by decisions of Donald Trump, whom he described as a "crazy person", has no effect.
Shamkhani made the remarks during a meeting with visiting Syrian Parliament Speaker Hammoudeh Sabbagh in Tehran.
The top security official said the U.S. has become isolated due to its officials' "unwise" decisions and "repeated mistakes".
Shamkhani also said threats by Trump to pull out of the 2015 nuclear deal unless the multilateral agreement is revised are just propaganda intended to deprive Iran of the economic benefits of the pact, officially called the Joint Comprehensive Plan of Action.
On Friday, Trump extended waivers of key economic sanctions on Iran for another 120 days. However, he said if the text of the deal is not revised during this period he would unilaterally withdraw the U.S. from it.
'Syrians will decide own destiny'
Elsewhere, Shamkhani said that the Syrian people will decide about their destiny with firm determination.
He also said that presence of foreign forces in Syria is a threat against regional countries.
According to Reuters, Turkish President Tayyip Erdogan threatened on Monday to "strangle" a planned 30,000-strong U.S.-backed force in Syria "before it's even born."
The United States announced its support on Sunday for plans for a "border force" to defend territory held by U.S.-backed, Kurdish-led fighters in northern Syria.
The Syrian government of President Bashar al-Assad responded on Monday by vowing to crush the new force and drive U.S. troops from the country. Assad's ally Russia called the plans a plot to dismember Syria and place part of it under U.S. control.
But the strongest denunciation came from Erdogan, who has presided as relations between the United States and its biggest Muslim ally within NATO have stretched to the breaking point.
NA/PA