By Mohammad Homaeefar
French foreign minister 'absolutely wrong': Iran
January 22, 2018 - 17:42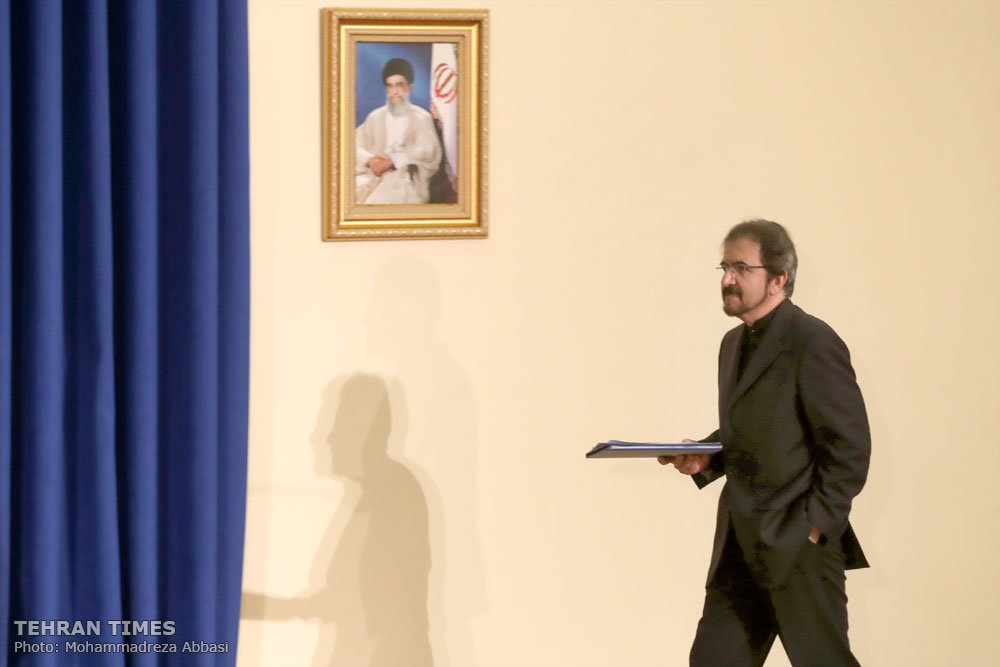 TEHRAN – The French foreign minister is "absolutely wrong" if he thinks Iran would give in to pressure and sanctions, the Iranian Foreign Ministry said on Monday, referring to Le Drian's call for more pressure on Tehran over its missile program.
"The Islamic Republic of Iran would definitely not bow to pressure and would not change its stances when facing strict policies," Foreign Ministry spokesman Bahram Qassemi said at a press conference in Tehran on Monday.
Earlier on the same day, France's Foreign Minister Jean-Yves Le Drian accused Iran of not respecting part of a UN resolution that calls on Tehran to refrain from work on ballistic missiles.
Speaking on arrival at a European foreign ministers meeting in Brussels, Le Drian also said the 28 ministers would reiterate their concerns over Iran's activities in Yemen, Lebanon and Syria, which he described as "destabilizing".
"We will also have the opportunity of underlining our firmness on Iran's compliance with United Nations Resolution 2231, which limits access to ballistic capacity and which Iran does not respect," Le Drian was quoted by Reuters as saying.
Under the UN resolution enshrining the 2015 nuclear deal with the U.S., Britain, China, France, Russia and Germany, Iran is "called upon" to refrain from work on ballistic missiles designed to deliver nuclear weapons.
Iran has repeatedly said its missile program is purely defensive and denied they are designed to carry nuclear warheads.
France, Qassemi said, is allowed to think as it wants to, and it's natural that "our stances" differ in some respects with those of France or any other country.
He also said Le Drian "is not very familiar with the Iranian society. He should read the history of the Islamic republic and the way we handled pressure and sanctions, so [he] realizes that we can defend ourselves against pressure and at the same time have a more active presence in the region and across the world."
Le Drian on Sunday said he would travel to Iran in early March and that France had begun talks with Tehran to discuss its missile program and regional activities.
But Qassemi rejected the French foreign minister's comments, saying, "We have not had any negotiations about our missile and defense capabilities and will not talk about these issues with others."
On France's insistence to negotiate with Iran about its influence in the region, the spokesman said Iran will definitely hold in-depth talks with the French foreign minister to make matters "clear".
"We'll have plenty to talk about," he said, adding, "Our influence in the region is definitely positive. Besides, regional and European countries, especially France, have certainly benefited from our influence."
If it wasn't for Iran's influence and the role it played in the region, the bloodthirsty terrorists would have captured Damascus and Baghdad, conducing acts of terror in the heart of Europe, Qassemi stressed.
Asked about a report that Britain, France and Germany have begun talks on a plan to satisfy U.S. President Donald Trump by putting more pressure on Iran, the spokesman said he has not heard any statements by European officials confirming the report.
"Our relations with Europe are old and developing," but Iran-Europe relations have always had their foes, who try to drive a wedge between the two sides, he added.
MH/PA