Support for nuclear agreement 'should be combined with tangible measures', Rouhani stresses
Rouhani to Macron: No possibility to remain in nuclear deal if Iran cannot enjoy its benefits
June 13, 2018 - 21:47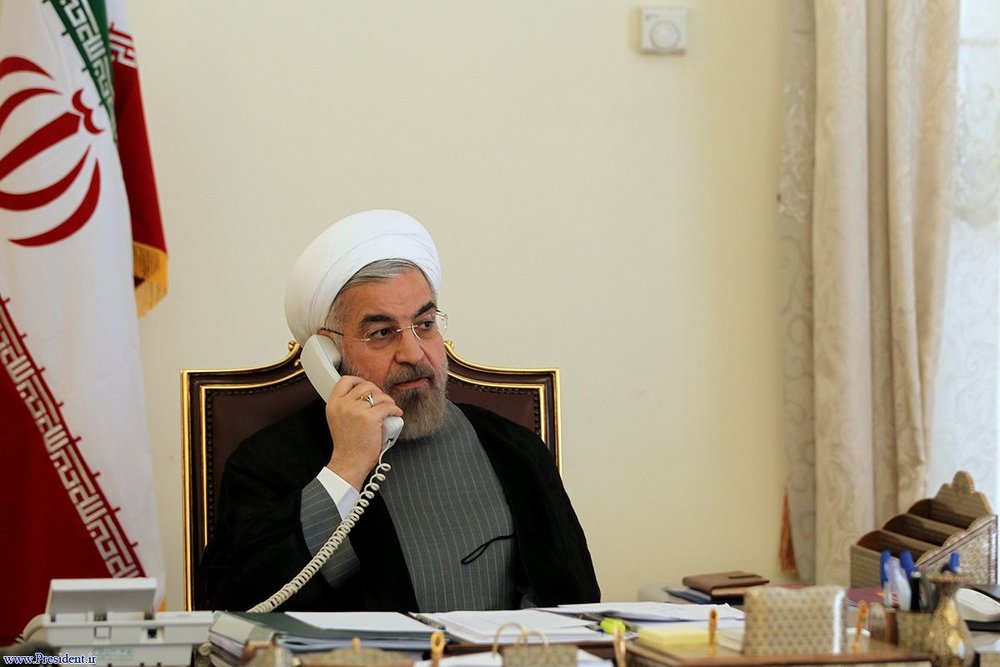 TEHRAN – In a phone conversation with his French counterpart Emmanuel Macron late on Tuesday that lasted for an hour, President Hassan Rouhani said it is not possible for Iran to remain in the 2015 nuclear agreement if it cannot enjoy the deal's benefits.

"We should not let this great achievement of diplomacy [the Joint Comprehensive Plan of Action] be destroyed by unilateral actions and violation of others," Rouhani noted.
Under the agreement, Iran is obliged to put cap on its nuclear enrichment activities in exchange for termination of economic and financial sanctions.
However, on May 8, President Donald Trump officially withdrew the U.S. from the UN-endorsed nuclear agreement and plans to reimpose sanctions on Iran.
Iran has warned the remaining parties to the nuclear agreement – the European Union, E3 (Germany, France and Britain), Russia and China – that if its interests are not guaranteed it will not remain in the deal.
Rouhani expressed hope that efforts to protect the JCPOA would be successful.
Supports for preserving the nuclear agreement "should be combined with actions and tangible measures", Rouhani stressed.
Macron said that France will remain committed to the nuclear deal.
"We all should make efforts to preserve the JCPOA, and through a little mistake not providing a 'golden opportunity' for those who seek to destroy this deal," he noted.
According to Reuters, the French president also updated his Iranian counterpart on "the progress in the work being done" from Europe's side.
On May 23, Leader of the Islamic Revolution Ayatollah Ali Khamenei issued a set of demands from Europe to save the nuclear deal. He warned that Iran would restart its nuclear activities if they failed to act swiftly.
Ayatollah Khamenei said the JCPOA could only continue if the Europeans fulfill these conditions including: Promising not to ask Iran about its ballistic missile program or its regional activities; guaranteeing that Iran's oil will continue to be sold; and having European banks guarantee financial transactions with Iran.
'Iran's presence in Syria is upon Damascus request'
Rouhani also told Macron that the presence of Iranian military advisors in Syria is upon a request by the Damascus government to fight terrorism.
He also said that Iran welcomes continuation of consultations with France on fighting terrorism and restoring peace and stability to Syria.
NA/PA