General public opposes talks with Trump: Iran
June 19, 2018 - 21:23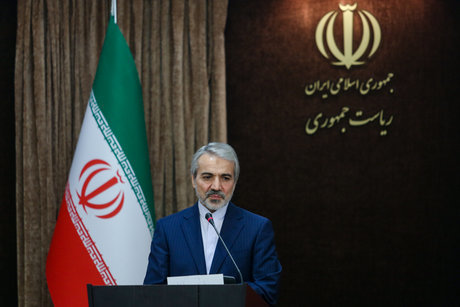 TEHRAN – Government spokesman Mohammad Baqer Nobakht on Tuesday dismissed the possibility of talks with U.S. President Donald Trump, saying even the general public in Iran opposes the idea of talks with Trump, ISNA reported.
"It is our right to oppose America's bullying," Nobakht said during his weekly press conference, criticizing an open letter signed by 100 political and civil rights activists who have called on the Iranian and U.S. governments to hold direct talks without any "preconditions".
"The letter showed lack of political wisdom… We must stand and resist… Our stance is right and we should stand united," he added.
The Islamic Republic has proven that it will negotiate with other countries whenever negotiations are necessary for its national interests, he said, pointing to the 2015 nuclear deal, officially known as the Joint Comprehensive Plan of Action (JCPOA), as an example of Iran's willingness to negotiate with other countries under the right conditions.
The spokesman also said the letter was a clear manifestation of freedom of speech under the Islamic Republic.
The letter, which said holding talks could protect Iran's national interests as well as solve some of its problems, drew widespread criticism from across the political spectrum, with dozens saying Trump's withdrawal from the JCPOA shows his untrustworthiness.
In a note published on the Iran newspaper on Tuesday, reformist lawmaker Mohammad-Reza Tabesh defended the signatories' right to express their opinions, but criticizing the pro-negotiation arguments put forward in the letter.
"The idea of direct U.S.-Iran talks was promoted somewhat simplistically while there are numerous complexities in the path toward such negotiations," Tabesh said.
Also, he added, the letter does not explain how Tehran can trust the U.S. after it unilaterally exited the nuclear accord.
Foad Izadi, an assistant professor at the University of Tehran, said those who wrote the letter played into America's hands.
The letter can be described either as a "betrayal" or "ignorance", he added.
He also said the right conditions are not yet in place for talks, and that the Islamic Republic needs to boost its defense might in order to have the upper hand in any negotiations.
Abbas Abdi, a reformist journalist, described the U.S.-North Korea talks as a "political show" which bore little resemblance to Iran's situation.
"In the current situation that Trump has illogically withdrew from Barjam (JCPOA), there are no prospects for dialogue," Abdi stated, IRNA reported.
He further said U.S. authorities' preconditions "are in contradiction with being determined to have a constructive dialogue."
MH/PA