Seeing them home safely
Iran urges UN, EU to help Afghan refugees go home after 4 decades
June 25, 2018 - 20:46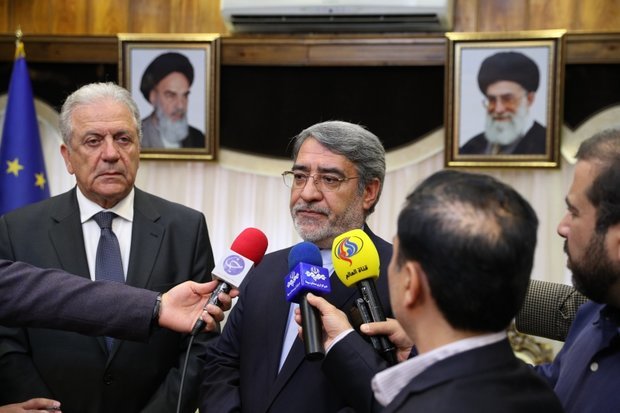 TEHRAN - Iranian Interior Minister Abdolreza Rahmani Fazli said on Monday that the United Nations and the European Union should provide the ground and help the Afghan refugees return to their country voluntarily.
The Afghan refugees were the relic of the Soviet invasion of their country in the 1980s. Iran has been home to 2 to 3 million Afghan refugees, who have been receiving education and healthcare services, and almost monopolized the labor market in the construction sector.
"The United Nations and the European Union are expected to make efforts to provide living situation for Afghans [in Afghanistan] in a way that they return to their country voluntarily and also provide them with humanitarian aid in areas of education and medicine while they reside in Iran," he told reporters after a meeting with Dimitris Avramopoulos, the European commissioner for migration and home affairs, in Tehran.
Rahmani Fazli noted that Iran is ready to cooperate with the EU in helping the refugees.
Elsewhere, he said that as a neighboring country to Afghanistan, Iran has been harmed the most in fighting drug trade and also preventing trafficking of drugs to Europe.
He called for expanding cooperation with the EU in fighting drug trafficking. The interior minister also said that Iran and Europe will expand cooperation in countering terrorism.
UN: Ayatollah Khamenei's order to grant refugees education was extraordinary

An order by Ayatollah Khamenei, Leader of the Islamic Revolution, to grant refugees education was "extraordinary", Nicolas Oberlin, the deputy regional director of the United Nations World Food Program, told ILNA news agency in an interview published on Monday.
"The policy of supporting refugees is growing in Iran and we are happy to see how well Iran is doing its job regarding refugees," Oberlin said.
The UN official added that besides the Leader's decree on education for refugees, Iran's healthcare and insurance services for refugees has "turned Iran into a leading country regarding refugee affairs".
Iran's policy to collect documents over groups who had no identification documents is another noteworthy policy, he pointed out. "This process has started recently and is a very positive policy. We try to help Iran reach its goals more and more effectively."
In late 2016, Sivanka Dhanapala, the then UNHCR representative in Tehran, said the Islamic Republic has been hosting refugees for almost four decades.
"The Islamic Republic of Iran generously hosts one of the largest and most protracted refugee situations in the world. Estimates from the Government of Iran indicate that 951,142 Afghan refugees and 28,268 Iraqi refugees reside in Iran, in addition to 620,000 Afghans who hold Afghan passports and Iranian visas. The government also estimates that there are approximately 1.5-2 million undocumented Afghans also living in Iran," Dhanapala said.
In May 2015, Ayatollah Khamenei issued a decree to the Ministry of Education allowing all Afghan children of school age, regardless of documentation status, to attend primary and secondary school education, resulting in over 350,000 Afghan and Iraqi children being enrolled in the 2015-2016 school year. In addition, all refugees of school-age are now exempt from paying costly refugee-specific tuition fees, which encourages even vulnerable and economically challenged families to send their children to school.
NA/SP