Zarif praises Africa's approaches to intl. developments
June 27, 2018 - 16:10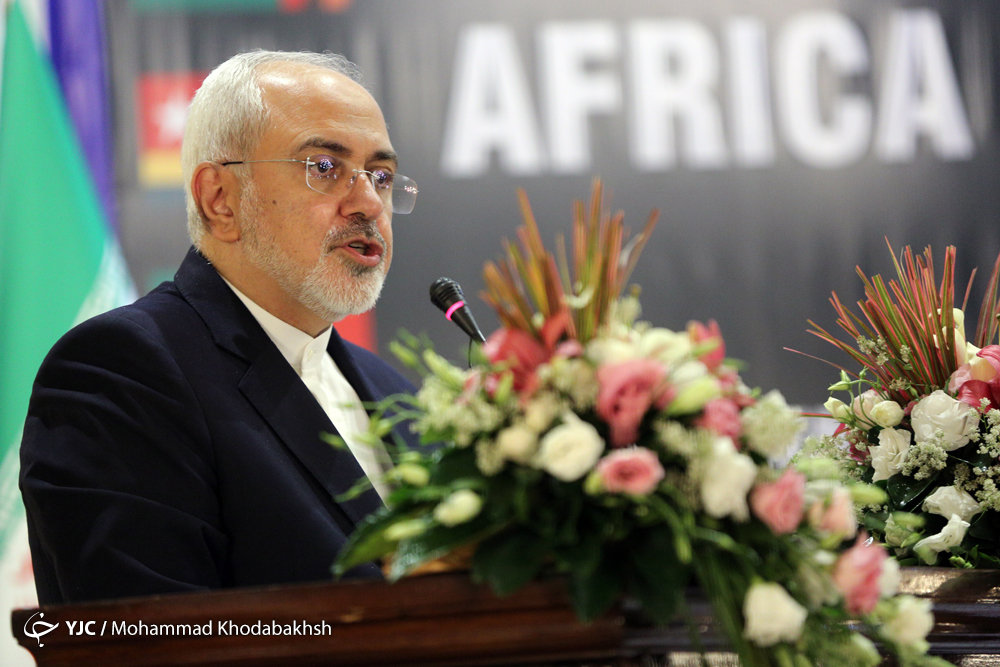 TEHRAN – Iranian Foreign Minister Mohammad Javad Zarif praised on Tuesday that the African Union's reactions to international developments including its support for the Iran nuclear deal.
"The AU's reactions to global and regional developments, including its support for the Iran nuclear deal, its condemnation of the use of chemical weapons, its emphasis on concerns over the U.S.' withdrawal from JCPOA, which violated the rules and regulations of international law, and its logical reaction to those insulting the African people show that the African nations and countries and the AU have great political understanding," Zarif said at a ceremony held to mark Africa Day.
"Today we see that Africa is active in all fields to meets its needs. They seek to provide equal social opportunities for men and women, improve their economic conditions, raise the standards of living, help establish peace and stability, and promote democracy in the continent," he noted, praising the valuable and great measures already taken to fight against corruption.
He also said that Iran prioritizes economic ties with the African countries in its foreign policy. "We seek to promote our business relations with Africa, and the Economic Department recently established at the Iranian Foreign Ministry attaches special importance to Africa."
Elsewhere, he said, "Some African countries made sacrifices to help their other brothers and sisters achieve political independence."
"This indicates their strong commitment to each other and the cause of promoting human culture and raising hopes for the progress of African people at all human levels," he noted.
"Based on its cultural values and Islamic teachings, the Islamic Republic of Iran has joined the Africans' celebration of their great success, and accompanies the African nations and governments in this joy," the chief diplomat remarked.
'Nuclear deal is still working'
On the sidelines of the ceremony, Zarif told reporters that the 2015 nuclear deal, known as the Joint Comprehensive Plan of Action, is still working.
He noted that the Europeans and other signatories to the JCPOA are committed to guarantee Iran's interests after the U.S. withdrawal from the deal.
On May 8, President Donald Trump officially withdrew the U.S. from the UN-endorsed nuclear agreement and threatened Iran with worst sanctions.
Iran has repeatedly warned that if its interests are not guaranteed under the nuclear agreement it would resume its nuclear activities with a greater speed.
Iranian Deputy Foreign Minister Abbas Araqchi said on Saturday that the three European signatories to the JCPOA alongside with the European Union had promised to offer a package of practical steps that would fulfill Iran's demands under the nuclear agreement. He said the package will include Iran's oil sales, payments for its oil and transportation.
Behrooz Kamalvandi, spokesman for the Atomic Energy Organization of Iran, said on Monday that Europe should decide about preserving the nuclear deal by the end of June.
NA/PA