Government can be reformed: Iran's vice president
July 25, 2018 - 9:16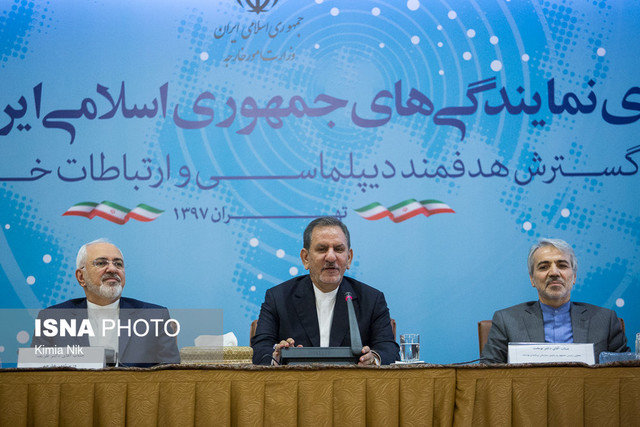 TEHRAN - Iranian First Vice President Es'haq Jahangiri said on Tuesday that the government can be reformed and suggested that anyone who cannot help solve the people's problems should delegate his responsibility.
"All of us should feel motivated to work, so that the management of the country will proceed well," Jahangiri told an annual gathering of Iranian diplomats.
To counter sanctions, some parliamentarians, economic experts and political figures have asked President Rouhani to make changes to his economic team. The calls for cabinet reshuffle have intensified since the value of foreign currencies and gold coin started to rise at the cost of national currency.
Jahangri noted that all the policies of the government can be reformed and requested highly-talented people to offer their views to the government for a better governance.
Elsewhere in his remarks, the first vice president said any efforts to undermine the government will disappoint people and this is what the opponents of Iran are wishing.
"Today, weakening the government means weakening the system which will lead to the people's disappointment. This is the main plan of the enemies and what they seek is taking hostile actions against Iran."
He noted that the government will not be able to handle the issues lonely and it is necessary that all bodies to help the government.
U.S. President Donald Trump announced Washington's exit from the 2015 nuclear deal on May 8 and said sanctions will be restored against Iran.
According to the U.S. Treasury, the first stage of sanctions will be snapped back in August and the primary ones in November.
Trump has asked countries to cut their oil imports from Iran by November.
U.S. Secretary of State Mike Pompeo announced in May that the U.S. will apply economic and military pressure against Iran and will impose "the strongest sanctions in history" on the Islamic Republic.
NA/PA