Zarif: Iran will not change regional policies under U.S. threats
August 14, 2018 - 9:27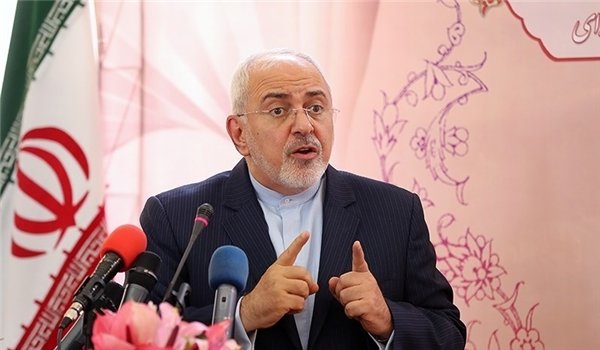 TEHRAN – Iran will not rein in its influence in the Middle East despite mounting U.S. pressure, Foreign Minister Mohammad Javad Zarif told al Jazeera TV in an interview aired on Monday.
"Iran will not change its policies in the region because of U.S. sanctions and threats," Zarif said.
The chief diplomat also said the U.S. request for talks with Iran under the threat of sanctions is merely a publicity stunt, insisting that Washington must remove the sanctions first.
In May, U.S. President Donald Trump exited the 2015 nuclear deal, also known as the JCPOA, and ordered restoration of sanctions against Iran. The first batch of sanctions was snapped back on Monday, August 6. The second batch will be restored on November 4.
Zarif further said, "Iran will never negotiate on its missile program because our missiles don't threaten anybody."
The foreign minister also said the idea to form an anti-Iran Arab NATO is solely a useless delusion and a worn-out policy.
He added Saudi Arabia is leading a sinister policy in Yemen and Western countries are accomplices in these crimes because of their silence and arms supplies.
Just Thursday about 50 Yemeni schoolchildren were massacred as the bus that they were travelling in was targeted in a Saudi-led air strike.
'Iran standing beside Turkey in face of U.S. sanctions'
Zarif also pointed to the U.S. economic war against Turkey, saying Tehran will fully support Ankara in the face of U.S. sanctions.
Trump said on Friday that he would double the rate of tariffs on steel and aluminum imports from Turkey, causing the Turkish lira to fall rapidly.
The lira "slides rapidly downward against our very strong Dollar!" Trump recently said on Twitter. He added, "Our relations with Turkey are not good at this time!"
MH/PA