Trump seeking to economically squeeze Iranians: Rouhani
November 10, 2018 - 20:18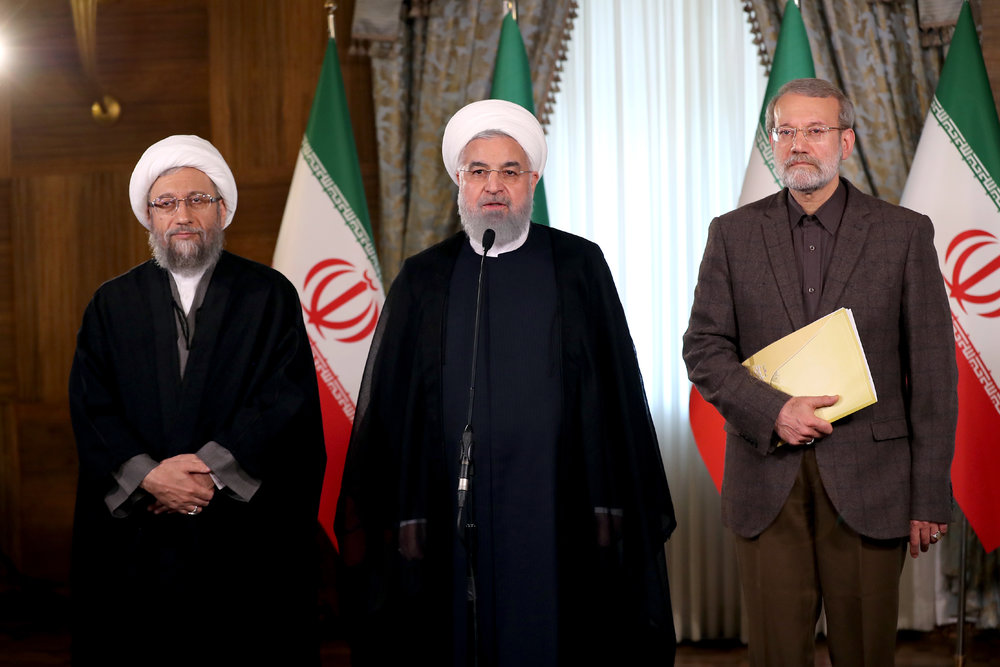 TEHRAN – Iranian President Hassan Rouhani said on Saturday that the Trump administration has been seeking to economically squeeze the Iranian people and not just the government.
"They seek to negatively influence the people's daily living through wrong sanctions," Rouhani said after a meeting with Judiciary Chief Sadeq Amoli Larijani and Parliament Speaker Ali Larijani.
However, he said that the new round of sanctions which were re-imposed on November 4 have not had any effect on the national economy.
"It is obvious from the way they announced re-imposition of sanctions that they seek to affect the Iranian people psychologically and have no other objective," he said.
Elsewhere, Rouhani said that the U.S. cannot reduce Iranian oil revenues to zero.
Exportation of oil from the region will face problems if Iran's oil sale is stopped, he noted.
Elsewhere, the president said that there is no problem in providing basic commodities in the country.
"We have no problems in producing and importing basic commodities including medicine. Today, the country is in a good situation. Our exportation has increased compared to the past six or seven months which means increase in production and employment," Rouhani explained.
However, Foreign Minister Mohammad Javad Zarif, in a tweet on Thursday, said sanctions ban Iranians' access to financial services to buy food and medicine.
While humanitarian goods, like medicine, are indeed officially exempt from sanctions, international banks and businesses are hesitant about trading with Iran altogether, even when it comes to food and medicine, out of fear that they will face punishment should they run afoul — even accidentally — of those sanctions.
U.S. President Trump unilaterally pulled Washington out of the 2015 nuclear agreement in May and reintroduced sanctions on Iran. The first batch of sanctions were enacted in August. The second wave of sanctions, which targets Iran's oil exports and central bank, started on November 5.

NA/PA