Kharrazi: We have no choice but to resist sanctions 
Despite claims, U.S. sanctioning the Iranian people not the government, Kharrazi says
November 14, 2018 - 20:14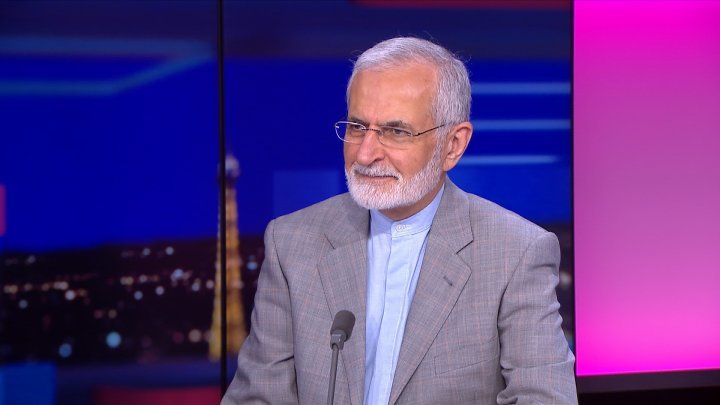 TEHRAN - The U.S. claims that it has sanctioned Iran's government, but in fact the people of Iran are being sanctioned, said Kamal Kharrazi, head of Iran's Strategic Council on Foreign Relations, in an interview with France24 broadcast on Wednesday.
Commenting on the latest round of sanctions unleashed on Iran, Kharrazi said the U.S. withdrawal from the 2015 nuclear agreement has been condemned by everyone, including the Iranian people who are suffering from these sanctions.
"The U.S. has actually sanctioned the people, elderly, children, women, and certainly we have no choice but to resist," said Kharrazi who also acts foreign policy adviser to the Leader of the Islamic Revolution.
Asked about why Iran still maintains some level of trust in the Europeans despite their failure to deliver on their promises including securing a channel for conducting trades with Iran to date, Kharrazi said, "The other side has to be questioned that why they are hesitating."
"Others should be questioned that they do not expedite the operation of this instruments. So far, Iran has shown its patience and continued to be part of the deal. Therefore, Iran should not be questioned why [it] still stands [in the deal]" Kharrazi said, adding that the EU, nonetheless, has been promising that the financial instruments will be in place in near future.
Addressing Denmark and France's recent diplomatic rifts with Iran and the possible impacts they can have on the EU's support for the JCPOA, Kharrazi noted, "Certainly, there are enemies against the relations between Iran and Europe. We believe that this is premeditated, and it is a plot against the normal relations between Iran and European countries."
Kharrazi added, "The question here is to the French government… that why a terrorist organization [Mojahedin-e Khalq], which has been killing Iranians —seven thousand Iranians — are present here, and the government is hosting the organization."
Elsewhere in his remarks, Kharrazi underlined that Iran is present in Syria and Iraq with the invitation of their governments and because of its national security concerns, among other reasons.
"Daesh (ISIL) was very close to capture Damascus and Baghdad, and they could come to the Iranian border. Therefore, not only in supporting the status quo and the governments in Iraq and Syria, but it was for the national security of Iran."
Kharrazi, who served as foreign minister in the reformist government of Mohammad Khatami from 1997 to 2005, referred to Iranians' "friendly and spiritual" relations with the Lebanese, Syrian and Iraqi people, saying, "It's for centuries that Iranians and those people have been very close to each other."
As an example, Kharrazi pointed to the massive Arbaeen trek in which two million Iranians annually participate and they are hosted by the Iraqi people.
'Nonsense war in Yemen'
Elsewhere, Kharrazi pointed to the miserable humanitarian situation in Yemen, questioning the European countries' arms deals with Saudi Arabia and the United Arab Emirates. "This is a nonsense war which has not led to any victory for Saudi Arabia and the United Arab Emirates, but just killing people, (including) women and children, and destruction of the whole country."
He said Houthi fighters just want a share in their future government, and Iran will certainly expresses political support for them. He added that Iran will also support Yemen's peace negotiations, and it has been cooperating with some European countries to resolve the Yemeni crisis. However, he said, the Saudi Arabian government is not willing to cooperate.
Addressing the so-called Saudi "Iran plan" in which Riyadh has been plotting assassination attempts on the lives of Iranian officials, financing opposition groups like the Mojahedin-e Khalq Organization, and even attempting to sabotage Iran's economy, Kharrazi said the plan is not very strange to Iranians as this is Saudi Arabia's mentality and its nature.
"Saudi Arabia has always been supporting terrorism and supporting those who have been trying to kill Iranians," he said.
Nonetheless, Kharrazi, did not shut the door for possible negotiation between Tehran and Riyadh, suggesting that it is only through negotiation between the key states in the Middle East that the "volatile" situation in the region can be ameliorated.
SP/PA