Zarif: Traditional partners prioritized amid EU procrastination
January 8, 2019 - 16:20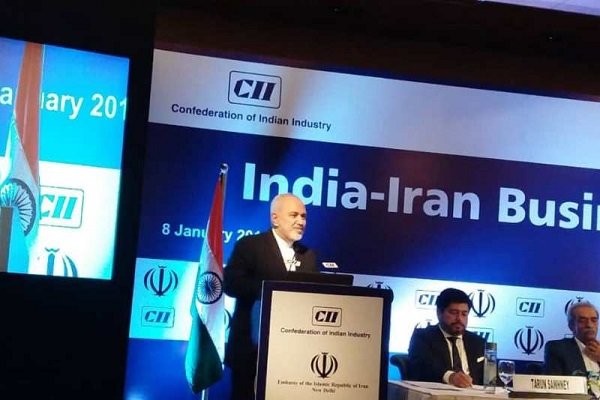 TEHRAN – Tehran would not wait for the Europeans and their special payment system and will work with its traditional partners, like India, China and Russia, in order to fulfill the interests of Iranians, Foreign Minister Mohammad Javad Zarif said as he visited India late Monday.
"We continue to work with the Europeans for the special purpose vehicle but we are not waiting for them," Zarif told reporters in New Delhi. "We are working with our traditional partners like India, like China, like Russia so that we continue to work in the interest of our people."
Zarif was referring to the special purpose vehicle (SPV), a European Union's initiative intended to protect trade with Iran against newly reimposed U.S. sanctions. The EU had promised to kick off the system on November 4 when Washington set the sanctions in motion. The package still remains untapped.
The Iranian foreign minister said on Tuesday the European Union was moving more slower than expected in facilitating non-dollar trade with Tehran to circumvent U.S. sanctions, forcing it to explore avenues with other nations. Iran will keep working with Europe to put into effect the SPV for international trade with Tehran under the 2015 nuclear deal, Zarif maintained. Tehran has told the EU if they want to have Iran in the deal while the U.S. violated it, they have to pay a price.
The top diplomat arrived in New Delhi late Monday for a three-day visit heading a diplomatic and economic delegation.
Zarif's visit to India comes amid a six-month waiver granted by Washington to Indian companies to buy 300,000 bpd of crude from Iran. Iranian oil export funds will now be locked up in escrow accounts that can only be approved for humanitarian purposes including basic commodities and medicine.
The announcement of the sanctions had a domino effect for India, Iran's second largest crude buyer, importing 540,000 bpd on average this year. Iran was India's third-largest crude supplier after Saudi Arabia and Iraq.
With one of the highest economic growth rates in the world, India imports 80 percent of its crude and the demand is on the rise. As a result of the uncertainties in crude supply created by the sanctions, the Indian rupee fell to a record low of 73.81 against the dollar on October 5, cooling off the domestic stock market and escalating inflation.
Indian oil refiners had a good deal buying Iranian crude at $3-5 a barrel cheaper compared to other Middle Eastern producers and benefits included $2-4 discount for a barrel of crude, $1 a barrel on freight subsidies and extended payment facilities.
Zarif said that Iran will enhance cooperation with its trade partners through various channels.
The Iranian foreign minister also pointed to his negotiations with Indian Transport and Shipping Minister Nitin Gadkari on economic cooperation, saying the two countries have launched cooperation in various fields, as in the development of the Iranian port city of Chabahar.
Pointing to the interaction between the Iranian and Indian banks, Zarif expressed hope that Tehran and New Delhi would broaden ties despite the U.S. sanctions.
Upon his arrival at the New Delhi airport, Zarif told reporters that Iran and India had good relations even after re-imposition of U.S. sanctions. "We have a good banking agreement with Indians, which was signed this fall and after [re-imposition] of sanctions, and this agreement allows our country to continue both exports and imports while meeting its financial needs."
The top Iranian diplomat stated that there are many good opportunities for the expansion of relations between Iran and India, including for the development of Chabahar port, noting that Indians are interested in developing other projects related to Iran's transit infrastructure.
He added that inclusion of businesspersons in his accompanying team showed the private sector's interest in taking advantage of these opportunities to promote relations between the two countries.
Zarif attends forum in New Delhi
Zarif also delivered a speech at a gathering of the Indian Council of World Affairs (ICWA) attended by Indian elite and intellectuals.
The foreign minister made comments on the latest global developments and answered questions raised by the participants.
"No economic power can tell us you cannot have a relationship with India. This can give you confidence on the partner you are choosing," Hindu BusinessLine quoted Zarif as telling the forum in New Delhi on Tuesday.
On U.S. President Donald Trump's hostile policies towards Iran, Zarif said the challenge facing bilateral relationships came from one single country, and more specifically one individual. "The United States is asking other countries to violate a UN Security Council resolution," he regretted.
"We provide a third of urea fertilizer to India. Today Indian farmers are paying 38 percent more because of the arbitrary decision by an individual. Is this the future we want?" he asked, noting that the "arbitrary" decision of a single country was already affecting economic interests.
The Iranian foreign minister maintained that the Islamic Republic has continued its development during the past 40 years despite sanctions and this progress will not be stopped.
He added, "India was on our side in the past. We never forget people on our side, when better times come. And I assure you better times will come."
SP/PA