Ayatollah Khamenei says fearing the enemy could lead to miscalculations.
Iranian nation stronger than ever: Leader
February 26, 2019 - 19:45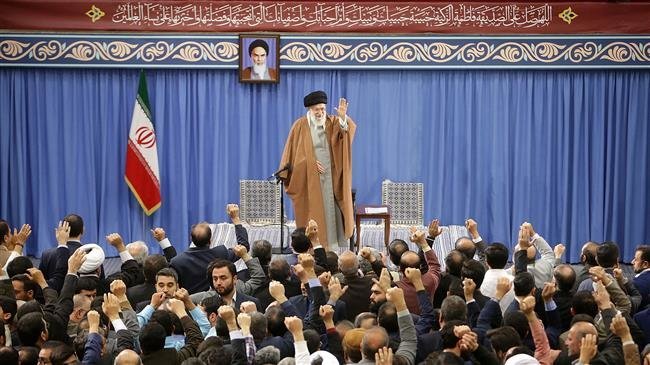 TEHRAN – Leader of the Islamic Revolution Ayatollah Ali Khamenei said on Tuesday that for all the hostilities against Iran, the nation has grown stronger than ever.
He made the remarks in a meeting in Tehran on Tuesday on the occasion of the birth anniversary of Prophet Muhammad's daughter Hazrat Fatemeh Zahra (PBUH), which Iranians celebrate as Women's Day.
Ayatollah Khamenei said since the victory of the Islamic Revolution forty years ago, the enemies have done everything in their power to harm the revolution.
"But the Iranian nation, by trusting God and doing its duty, was able to foil these plots and has grown stronger compared to previous eras, while the enemy is weaker than previous eras," the Leader stated, Mehr reported.
He also compared today's alliances of good versus evil to those of the Prophet Muhammad's era, emphasizing that the evil front of that era was obliterated in spite of being greater in numbers and equipment.
"Today, the same fate awaits the front which opposes the Islamic Revolution," Ayatollah Khamenei remarked, warning against fearing the enemy which he said could lead to miscalculations.
In a speech in December 2018, the Leader dismissed comments by U.S. officials who predicted that the Islamic Republic would not see its 40th anniversary, saying the Iranian nation will celebrate the 40th anniversary of the victory of the Revolution this year more magnificently than before.
MH/PA