U.S., Britain presence in Persian Gulf brings insecurity, Tangsiri warns
If a nuclear battleship attacked in Persian Gulf there will be no drinking water: Iran's IRGC Navy chief
August 18, 2019 - 18:55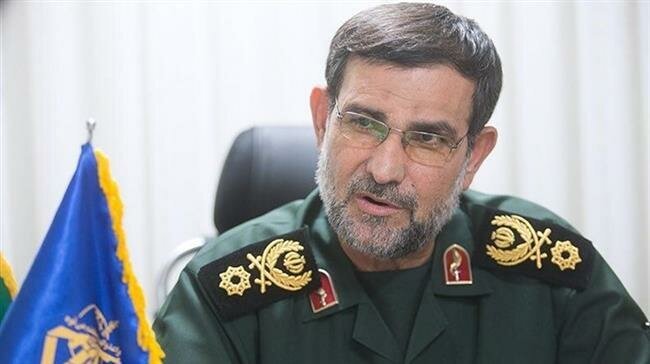 TEHRAN – Rear Admiral Alireza Tangsiri, the IRGC Navy chief, said on Sunday that the presence of the U.S. and Britain in the Persian Gulf brings insecurity to the region.
"We warn the Persian Gulf countries that if an incident was to occur for one of the atomic battleships in the Persian Gulf, they wouldn't even have drinking water anymore," Tangsiri said, ILNA reported.
Tensions have spiked between Iran and the U.S. in the Persian Gulf after the U.S. announced plans to form a military coalition to counter what it calls the "Iran threat".
Only Israel and the UK have welcomed the call, which has been rejected by other allies of Washington.
The U.S. claims Tehran has played a role in two attacks on oil tankers in the Gulf of Oman in May and June, which Iran has categorically denied.
"Today, we can establish security in the Persian Gulf through the empathy and convergence of other countries," Tangsiri said.
"Iran is the flag-bearer of establishing security beyond its borders in the Indian Ocean and other regions," he stressed.
He further said that the seven countries to the south of the Persian Gulf plus Iran were fully capable of establishing security in the region.
Israel's welcoming of the U.S. plan has been met with condemnations by Iranian officials and commanders.
In an interview with the Lebanese TV channel Al Mayadeen last week, Tangsiri warned that any Israeli presence in the Persian Gulf may result in a war in the region, and the responsibility for the consequences of such illegal presence lies with the U.S. and the UK.
"The United States and the United Kingdom must assume responsibility for the Zionist regime's illegal presence in the Persian Gulf waters," he warned.
Foreign Ministry spokesman Abbas Mousavi also warned that the Islamic Republic considers possible Israeli presence in the U.S.-led coalition as a clear threat to its national security, and reserves the right to counter it.
"The U.S. regime and the illegitimate Zionist regime are responsible for all the consequences of this dangerous move," the spokesman added.
MH/PA