Iran FM: We hope Vienna nuclear talks would be resumed soon
June 23, 2022 - 17:13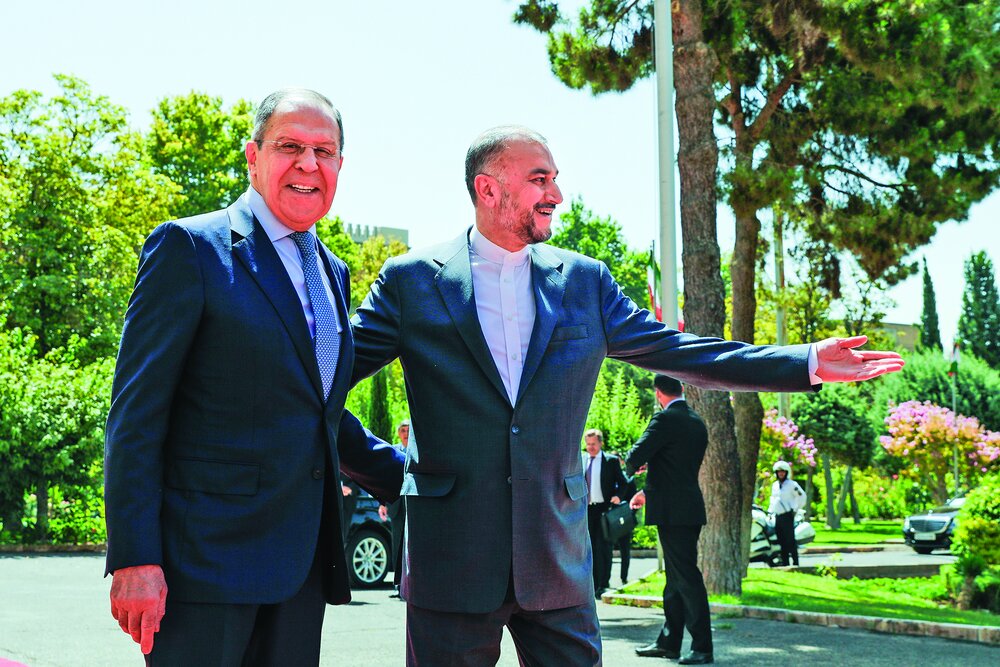 TEHRAN – Iranian Foreign Minister Hossein Amir Abdollahian said on Thursday that Iran hopes that the talks for reviving the 2015 nuclear deal would be resumed in Vienna soon.
Amir Abdollahian made the remarks in a joint press conference with Russian Foreign Minister Sergei Lavrov, who visited Tehran late on Wednesday.
"Plans are on the agenda of the Foreign Ministry, and we hope that through realism by the American side we can reach the final phase for finalizing the deal," Amir Abdollahian said, according to ISNA.
Amir Abdollahian added, "Here once again I am willing to insist that the Islamic Republic of Iran is serious to reaching a good, strong and durable deal, and we will continue the path of diplomacy, which is a correct path."
Iran's foreign minister also said Lavrov backed Tehran's position in the Vienna talks and insisted on Russia's position for full restoration of the nuclear deal, officially known as the Joint Comprehensive Plan of Action (JCPOA).
The Vienna talks to restore the nuclear deal have been on hold since March. However, Iran and its negotiating partners have been exchanging messages through European Union foreign policy chief Josep Borrell and his deputy Enrique Mora.
Amir Abdollahian added, "We are pursuing the full restoration of the deal with no concession on our position."
Lavrov also said, "All illegal sanctions imposed against Iran, which contravene the JCPOA, must be removed. We hope the United States would make a logical decision, though we are not very confident in this regard."
Iran insists on political solution to Ukraine crisis
On the Ukraine crisis, the Iranian foreign minister also said Tehran shuns "double standard policy" and it does not see the war as a solution to the conflict between Russia and Ukraine.
"We welcome political dialogue for resolving the Ukraine crisis," Amir Abdollahian insisted.
"Within this framework so far I have been carrying message of Ukraine's foreign minister to my Russian counterpart for two times and we hope that the sides return to the negotiating table and this crisis is resolved through dialogue," Amir Abdollahian stated.
Rendering sanctions ineffective
Iran and Russia are subject to severe sanctions by the United States.
"We have had important agreements in recent months on rendering the sanctions ineffective, but they must be acted on and there is no need to express them in front of the media," Amir Abdollahian said when asked about Tehran-Moscow moves in countering U.S. sanctions.
Iran blames Washington's indecisiveness as the chief reason behind the prolongation of the Vienna talks, as its refuses to remove all post-JCPOA sanctions on Iran and avoids to give guarantees it will not abandon the deal again.
Working on great deal initiative
Lavrov also said Iran and Russia are working on an initiative proposed by the Iranian president for "a great deal".
He also said Moscow and Tehran are firm to deepen their ties. Lavrov added that despite sanctions pressure by the United States value of trade ties between the Russian Federation and the Islamic Republic of Iran has reached to 4 billion dollars.
The Russian foreign minister went on to say that the economic and trade relation between Iran and Russia increased by 80 percent during the last year.
Russia ready to foster "cooperation dialogue" between Iran and Persian Gulf states
Lavrov also said Russia sees it as its duty to stabilize the Persian Gulf region and "we are ready to establish cooperation dialogue between Iran and Persian Gulf Arab states."
Lavrov thanks Iran for correct understanding of Ukraine crisis
The Russian chief diplomat went on to say that in his meeting with Iranian President Ebrahim Raisi he had elaborated on the conflict with Ukraine and "thank Iran for correct understanding of the roots of this problem."
The Westerners under the leadership of the U.S. are seeking to use Ukraine as a threat to Russian territory and thereby contain Russia, Lavrov opined.
Iran has blamed NATO expansion to the East for the current Ukraine crisis. However, officials in Tehran haves been insisting on resolving the bloody conflict between Russia and Ukraine through dialogue.
Russia started to a "special military operation" against Ukraine on February 24 to what it called "de-Nazify" the country.
Extraterritorial sanctions are illegitimate
After his talks with Lavrov, Amir Abdollahian tweeted, "Substantial talks with FM Lavrov to further enhance Iran-Russia cooperation. Also discussed regional and int'l developments."

Iran's chief diplomat also wrote he and Lavrov "stressed that arbitrary and extraterritorial sanctions are illegitimate."

In his tweet, Amir Abdollahian also said, "We agreed to intensify joint efforts to expedite full implementation of our agreements."