UNESCO-designated Takht-e Soleyman to turn more tourist friendly
January 24, 2023 - 18:15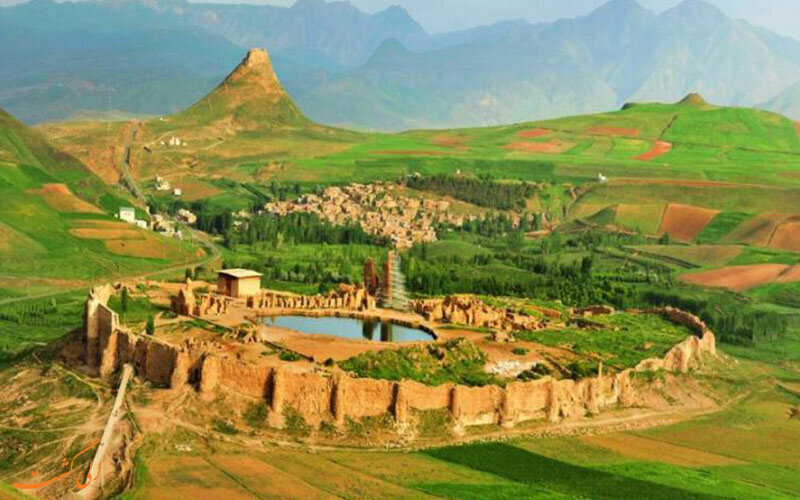 TEHRAN – The UNESCO-registered Takht-e Soleyman, which was once a prime fire temple of the Zoroastrian faith in ancient Persia, seeks to develop tourism infrastructure, a local official said on Tuesday.
So far, 37 billion rials (some $88,000) has been spent to rebuild travel amenities at the ancient site while extra efforts are currently underway to make it more tourist-friendly, said Amir Matloubi who presides over Takab's office for tourism and cultural heritage.
In the past few years, many measures have been taken to strengthen the tourism infrastructure of the World Heritage site, the official said.
"Increasing the capacity of parking lots, restoration of sanitary facilities and four kilometers of walkways connecting other attractions such as a waterfall, spa and a floating island were among projects competed so far."
Overlooking a lake with a backdrop of a snowcapped highland, the ancient interweaves a scenic natural context with a rich harmonious composition.
Situated in Takab county of West Azarbaijan province, Takht-e Soleyman is now a major travel destination for domestic and foreign travelers who want, even for minutes, to experience its peaceful atmosphere.
Takht-e Soleyman reveals architectural achievements of outstanding universal values, which, from artistic, religious, mythical, and historical points of view, emerge from the synergy of a man-made and spectacular natural setting.
Ancient Iranians established the ensemble in a geologically anomalous location where the base of the temple complex sits on an oval mound roughly 350 by 550 meters.
The ceremonial complex encompasses a lake roughly 80 by 120 meters and a Sassanid-era Zoroastrian temple complex dedicated to Anahita, an ancient goddess of fertility, parts of which were rebuilt in the 13th century during the Ilkhanid era.
In the 13th century, Takht-e Soleyman became a summer retreat for the Mongol Ilkhanid khans. The remnants of their hunting palace are now covered with a discordant modern roof forming a storeroom (often locked) for amphorae, unlabelled column fragments, photos, and a couple of ceramic sections of those ancient gas pipes.
According to Britannica Encyclopedia, its surrounding landscape was probably first inhabited sometime in the 1st millennium BC. Some construction on the mound itself dates from the early Achaemenian dynasty (559–330 BC), and there are traces of settlement activity from the Parthian period.
AFM