Film festival celebrates 90 years of relations between Iran, Japan 
February 27, 2019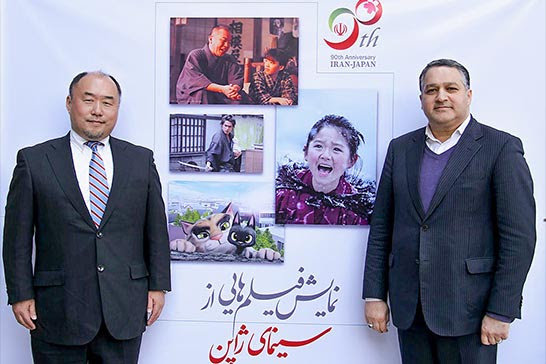 TEHRAN – The Embassy of Japan and Iran's Farabi Cinema Foundation is organizing a festival of Japanese movies in Tehran to celebrate 90 years of diplomatic ties between Iran and Japan.  
The festival also aims to raise Iranian people's knowledge of Japanese culture and life, Japanese Charge d'Affaires Toru Morikawa said during the opening ceremony of the festival at Farabi on Tuesday.
"Watching the Japanese films and animations can help the spectators become more familiar with Japanese life, culture and feelings," he added.
He also said that animation has a lot of fans in Japan and the animations selected for the program portray special images of Tokyo.
"Oshin" directed by Shin Togashi is a highlight of the festival, which was screened on Wednesday.
"Rudolf the Black Cat" co-directed by Kunihiko Yuyama and Motonori Sakakibara, and "Samurai Cat" co-directed by Yoshitaka Yamaguchi and Takeshi Watanabe will be screened in Farabi today (Thursday).
Also on Friday, "Pop in Q" by Naoki Miyahara and "Your Name" by Makoto Shinkai will go on screen at the Embassy of Japan.
Photo: Japanese Charge d'Affaires Toru Morikawa (L) and Farabi Cinema Foundation director Alireza Tabesh attend the opening ceremony of a Japanese film festival in Tehran on February 26, 2019. (Farabi Foundation)
RM/MMS/YAW