By Maryam Khormaei 
Cohen retaliating against Trump: Disclosure or lies 
March 2, 2019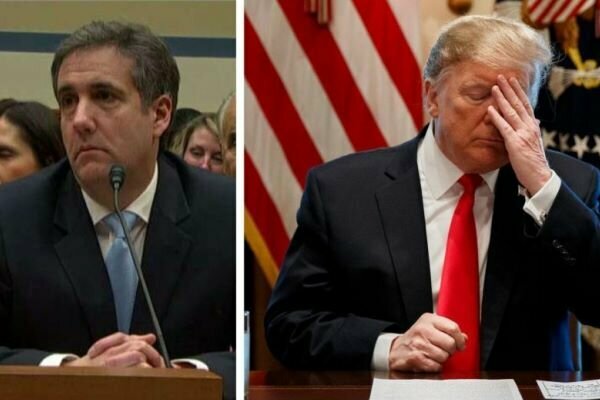 TEHRAN - Donald Trump's former lawyer Michael Cohen has painted a dull picture of Trump's character, but the effect of his testimony on Trump's fate remains unclear. 
The other day, the testimony of Michael Cohen was held before the U.S. House Oversight and Reform Committee against the U.S. President Donald Trump and his 2016 presidential campaign.
Cohen who pleaded guilty to eight counts of crime will have to surrender to prison on May 6 to begin a three-year sentence. During a week-long audition marathon, Cohen called President Trump a "liar", "cheat" and "racist" and regretted to have chosen to take part in concealing Trump's illicit acts rather than listening to his own conscience.
Cohen's confession is interesting as he was Trump's personal lawyer from 2006 until May 2018 and knows a great deal about his secrets. In 2006, he joined The Trump Organization and then became a vice-president the organization.
Of course, Cohen's disclosure wasn't limited to Trump's character but he pointed to Russia's meddling in Trump's presidential election, the Democrats favorite subject.
Cohen said, "Trump knew of and directed the Trump Moscow negotiations throughout the campaign and lied about it. He lied about it because he never expected to win the election. He also lied about it because he stood to make hundreds of millions of dollars on the Moscow real estate project."
Cohen claimed Trump was aware of WikiLeaks decision on disclosing a massive dump of emails that damaged Hillary Clinton's campaign before beforehand.
One of the issues that generated a lot of buzz in Russia's alleged involvement in the 2016 U.S. presidential election was the Moscow Tower project in Russia. Although the project failed, the negotiations over it between Cohen and Russian authorities in 2016 went on for months during the Trump's campaign.
In his testimony, Cohen stressed he had no prior knowledge of possible cooperation between Trump and Moscow.
"In conversations, we had during the campaign, at the same time I was actively negotiating in Russia for him, he would look me in the eye and tell me there's no business in Russia and then go out and lie to the American people by saying the same thing. In his way, he was telling me to lie."
In the midst of it all, one of the vital issues in the investigation of Trump's campaign is the release of the hacked Democratic National Committee emails.
"A lot of people have asked me about whether Mr. Trump knew about the release of the hacked Democratic National Committee emails ahead of time. The answer is yes."
Trump's longtime advisor and friend Roger Stone, who was arrested on multiple charges in a federal indictment that outlined efforts by Trump's 2016 campaign, is accused of knowing WikiLeaks release of hacked Democratic Party emails ahead of time.
Cohen said, "Mr. Trump knew from Roger Stone in advance about the WikiLeaks drop of emails", as he had heard their conversation.
Cohen also provided the Committee with a copy of the $130,000 wire transfer from him to Stephanie Clifford's attorney during the closing days of the presidential campaign that was demanded by Clifford to maintain her silence about her affair with Trump.
The 39-year-old Stephanie Clifford, better known as Stormy Daniels, is an adult film actress, who met the future president at American Century Championship, a celebrity golf tournament in Lake Tahoe, Nevada, in July 2006 and allegedly had an affair with Trump.
This is while Trump, who married his third wife Melania in 2005 denies the affair.
Daniels says her relationship with Trump lasted till 2007 when the two met again at Trump's private bungalow at the Beverly Hills Hotel in Los Angeles. She claims their relationship was no longer a secret and Trump used to talk to others before her.
She says out of fear for her life and her daughter's, 11 days prior to the 2016 election, she decided to accept a $130,000 hush money payment from Cohen to maintain her silence about her affair with Trump.
In his first reaction to his former lawyer's testimony, Trump twitted, Michael Cohen is lying to Congress to get a reduced prison sentence.
While in Hanoi, Vietnam for a summit, Trump called his ex-lawyers testimony "shameful" and "fake".
Trump said while Cohen "lied a lot," he was "impressed" by one thing: "He said no collusion with the Russian hoax … He said no collusion and I was you know a little impressed by that frankly. He could have gone all out. He only went about 95% instead of 100 %."
Trump's second son Eric Trump lashed out the imminent congressional hearing and tweeted, "Michael was lobbying EVERYONE to be 'Chief of Staff.'
Cohen testified before the House Oversight and Reform Committee on Thursday too.
The audition sessions in Congress are underway on Capitol Hill for one reason only to disclose Russian interference in the Trump campaign which swayed the election in favor of Trump. However, Cohen didn't give any information on that in his testimony the other day.
The Russian government has dismissed U.S. allegations of interference in the 2016 presidential election and considers it U.S. parties' retaliation against Moscow.
Of course, it is likely that the report of Robert Mueller, who is currently Special Counsel of the investigation into Russian interference in the 2016 U.S. elections, gets postponed due to Cohen's testimony and Democrats' pressure.
The allegations against Trump's racism and immoral acts are not serious threats for him at this point but can turn into a challenge and for him during the 2020 campaign.
Interestingly, in his testimony, Cohen said, "I fear if Trump loses the 2020 presidential election, he won't peacefully give up the White House, and it won't be a peaceful power transition."
Many believe with Mueller's reports Trump may have to resign from presidency like former U.S. President Richard Nixon.