By Manijeh Rezapoor
Artist traces goats' place in history of Iranian culture
July 29, 2017 - 18:45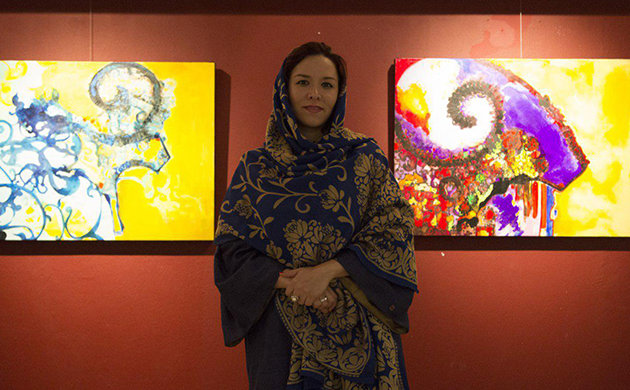 TEHRAN – The Paris-based Iranian painter Raheleh Roshandel intends to familiarize visitors to her new collection "Iranian Goats" with the place of the animal in the history of Iranian culture. 
Twenty works from the series that features goats in Iranian mythology, nomad life and some other fields were put on display in an exhibition at Tehran's Shokuh Gallery in mid-July.
In her research about goats in Persian culture and visits to the Louvre Museum, Roshandel has traced Iranians' interest in goat motifs created on ancient Iranian artifacts and architecture, she told the Tehran Times in a recent interview.
"I found out that people were superstitious in those days and that the goat was a symbol of protection and livelihood. They used to engrave goat motifs on the walls to keep their shelters safe from the devil. The goat was the symbol of an angel that helped them in difficulty and I wanted to reintroduce it again and cause people to remember this ancient tradition," she explained.
"What was important for me is to turn the goat into a world symbol and let others know the story behind it," she said with a bright smile.
The artist, who has been living in Paris over the past ten years, suggested that every house would be beautiful with a symbol of the goat, a painting or a little sculpture or drawing of a goat as it is the symbol of livelihood in Persian culture.
"As an artist, I want to show off the good things in our culture. I think any visitor with any type of taste should not pass by the goats on display in my exhibits. That is, I want any person of taste who cares to do so and wants to have one at home to stop by and look at the works," she said.
She noted that her exhibit featured works made with acrylic and ink, and the next ones would come out with new materials. "The goats will be painted in various styles like real, surreal, cubism and many other styles."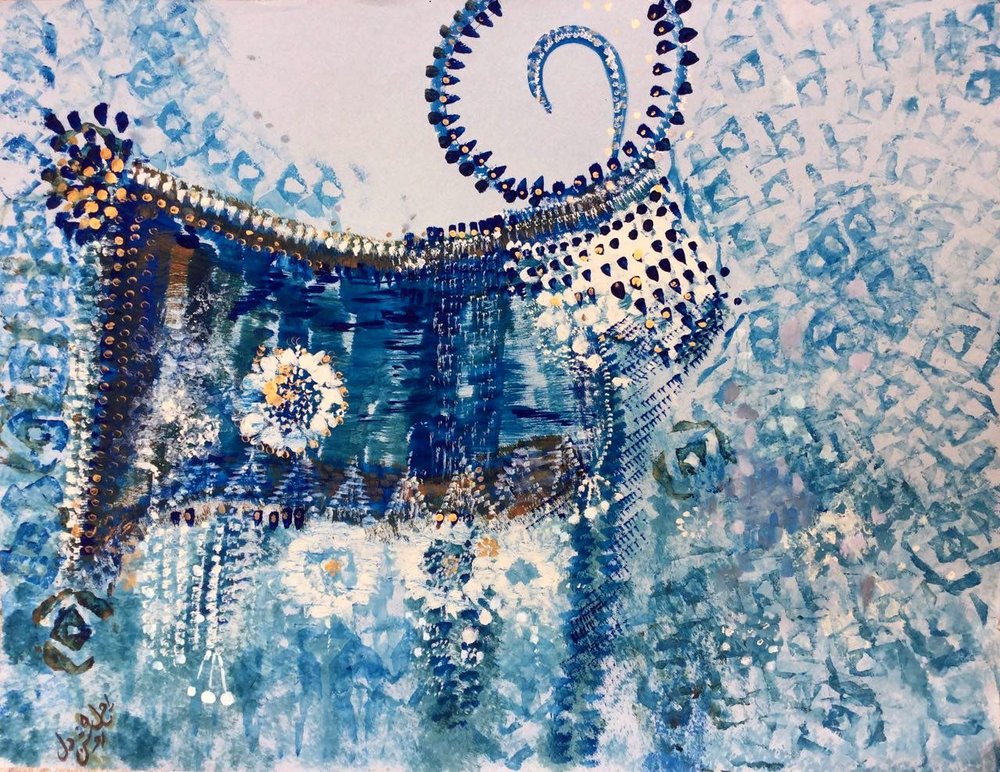 A painting from Raheleh Roshandel's series "Iranian Goats"
On choosing Iran for her first exhibit, she said, "The culture is rooted in my country, so it was a great honor for me to showcase the collection first in my own country. The series will later go to France and other countries to let visitors know that it belongs to Iran."
She also pointed to her childhood memories and said that her first pet was a goat.
In her next collections, she plans to focus on girls and goats as well as Persian proverbs on goats.
The artist also explained that her paintings are totally abstract with no previous drawings.
"I simultaneously conceive the artworks and apply the colors. The paintings are my personal perception. That is, I deem myself a lady from the Achaemenid era who wants to keep the devil away from home and then I begin to paint that goat. I actually consider myself an artist from those years," she added.
Roshandel said, "There were those who have worked on goats and made paintings of them, but my emphasis on goats has been of greater significance."
She also noted that goat motifs will inspire all the collections she will create in the future. "I will preserve the ancient symbol of the goat with new elements in new and different situations."
Photo: Painter Raheleh Roshandel poses in an exhibition of her works at Shokuh Gallery in Tehran on July 14, 2017.
RM/YAW