President Hassan Rouhani opens Tehran Intl. Book Fair
May 3, 2016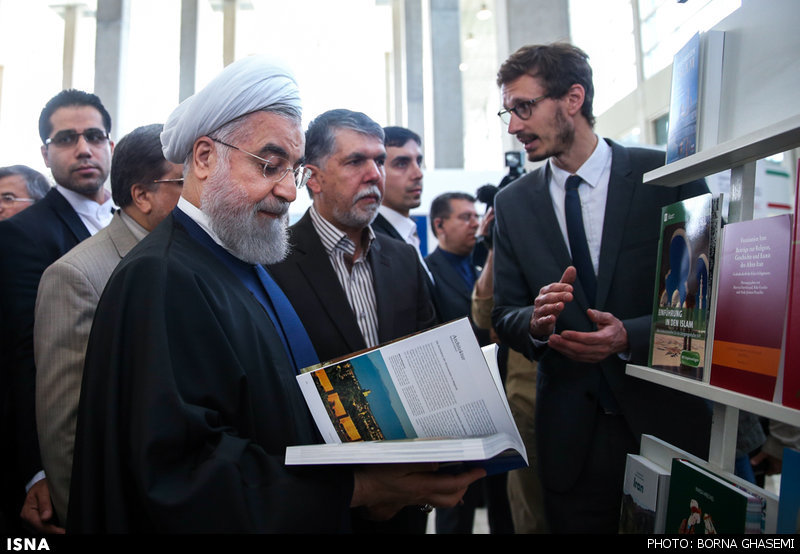 TEHRAN – The 29th Tehran International Book Fair was officially inaugurated by President Hassan Rouhani on Tuesday at Shahre Aftab, a newly-constructed fairground in southern Tehran.
"I am delighted to be among the literary figures, writers, scholars and the publishers at the opening of this great cultural event," Rouhani said.
He also expressed his thanks to the Russian officials attending the fair as the special guest country this year.
"I am happy the fair opened in this location, and I must thank the Tehran mayor [Mohammad-Baqer Qalibaf] for having constructed such a big and beautiful place for the exhibition," he added.
Minister of Culture and Islamic Guidance Ali Jannati, also accompanying the visiting delegation, called the fair the biggest cultural event in the country.
He added that the relocation of the fair from Imam Khomeini Mosalla to Shahre Aftab was a difficult and tiring task, which was carried out by the Tehran Municipality with the cooperation of his colleagues.
In his brief speech, the director of Russia's Federal Agency on Culture and Cinema, Mikhail Shvydkoy, pointed to the cultural and historical commonalties between Iran and Russia and said that the main similarity between the two countries is that they do not change their traditions and values by force.
He added that the events occurring over the past few decades prove that sanctions cannot be obstacles in the way of a country's progress.
Pointing to the Russian President Vladimir Putin's visit to Iran in last November, Shvydkoy said that a new window has been opened and that the relations between the two countries have been growing in different fields.
Shvydkoy also noted that the Persian poets like Rumi and Khayyam are quite well known in his country and that Russian citizens begin to read Persian poetry from their childhood.
He hoped to get to know Iranian publishers during the book fair and expressed thanks to Iran, which has provided an opportunity for the Russian publishers to introduce their books.
Russia has arranged a vast variety of cultural programs during the fair to introduce more of the country.
Cultural officials from China, South Korea and Mexico were also in attendance at the opening ceremony.
Some Iranian publishers were awarded by the president for the special activities that they carried out over the past year.
"Tomorrow Is Too Late to Read" is the motto of the 29th edition of the Tehran International Book Fair, which will run until May 14.
Photo: President Hassan Rouhani visits the 29th Tehran International Book Fair after inaugurating the event at Shahre Aftab, a newly-constructed fairground in southern Tehran, on May 3, 2015. (ISNA/Borna Qasemi)
RM/YAW
END