Artworks inspired by Shahnameh on display at Tehran gallery 
May 18, 2016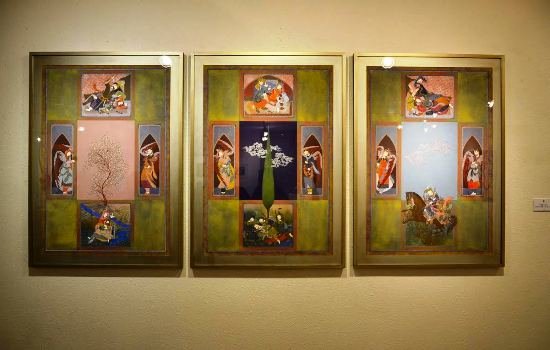 TEHRAN – An exhibition displaying paintings, sculptures, and sets of video art inspired by stories from the Shahnameh, Persian poet Ferdowsi's epic masterpiece, is currently underway at Tehran's Laleh Gallery.
"Each participating artist has worked on the Shahanmeh through his/her personal style of work. Some have focused on Ferdowsi himself; some have concentrated on the stories from the Shahnameh," gallery director Amir-Hossein Salabi said in a press release published on Tuesday.
"The Shahnameh itself enjoys visual images hidden in the stories, making them useful for artists in their productions," he added.
"We believe the artists selected for this exhibit have lived with the Shahnameh, they have studied the book and have a deep understanding of the masterpiece," he noted.
Farah Osuli, Reza Bangiz, Saeid Khazai and Behzad Shishegaran are among the participating artists showcasing their works.
The exhibit will be running until May 25 at the gallery located at the Laleh Park, on North Kargar St.
RM/YAW
END