University of Tehran opens permanent exhibit for artist Monir Farmanfarmaian
December 16, 2017 - 18:18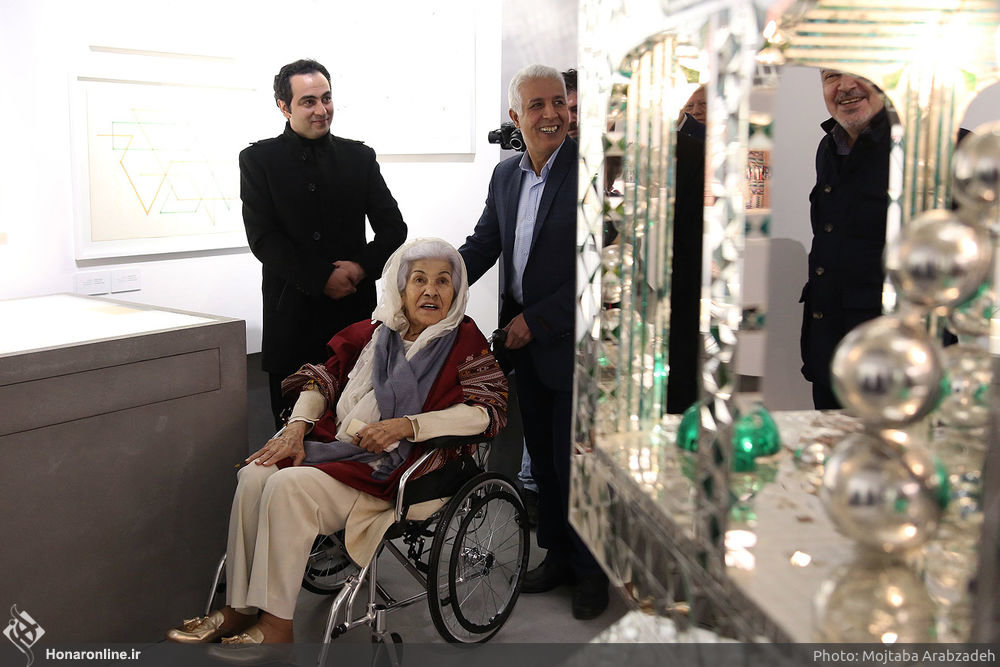 TEHRAN – The Negarestan Garden Museum of the University of Tehran (UT) opened a new section on Friday to put 51 artworks by artist Monir Farmanfarmaian on display in a permanent exhibition.
Sitting in her wheelchair, the 95-year-old artist, who is famous for her mirror mosaics and geometric drawings, attended the opening ceremony of the section titled "Monir Hall", the Persian service of ILNA reported on Saturday.
Speaking at the ceremony, UT Deputy Director for Cultural Affairs Majid Sarsangi said that he has received numerous calls from museum curators and world collectors who have praised UT's decision to dedicate the section to works by Farmanfarmaian.
Actors Faramarz Qaribian and Saber Abar, Visual Arts Office director Majid Mollanoruzi and Deputy Culture Minister for Artistic Affairs Mojtaba Hosseini were among the guests attending the ceremony.
Farmanfarmaian's work has been collected by institutions around the world such the Metropolitan Museum of Art in New York, the Tate Modern in London and the Museum of Fine Arts in Boston.
Photo: Monir Farmanfarmaian sitting in a wheelchair visits a permanent exhibition of her artworks opened at the Negarestan Garden Museum of the University of Tehran on December 15, 2017. (Honaronline/Mojtaba Arabzadeh)
RM/MMS/YAW