Zarif says Pompeo must take responsibility for his own words to starve Iranians
November 13, 2018 - 14:51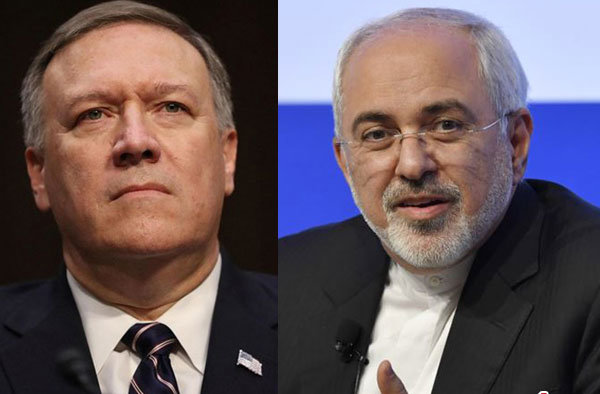 TEHRAN - Iran's Foreign Minister Mohammad Javad Zarif on Monday said U.S. Secretary of State Mike Pompeo must take responsibility for his own words by announcing that the U.S. is seeking to starve Iranians through sanctions.
The remarks by Zarif came after Pompeo made a sharp attack on Newsweek magazine that published his words to starve the Iranian people.
Pompeo "should either own what he says, or disown what U.S. does. Can't have it both ways," Zarif said in a post on his twitter account.
Zarif advised Pompeo not to attack media for "reporting his own words".
Angry over quoting him to starve Iranians, Pompeo, in a tweet, made a sharp attack on the U.S. magazine, calling it "fake Newsweek". Pompeo's boss Donald Trump also has a long record of attacking media.
In an interview with BBC Persian on Wednesday, Pompeo also said Iranian officials must listen to Washington "if they want their people to eat".
According to Press TV, Pompeo's attack on the Newsweek came after Zarif said the U.S. secretary of state's open threat to starve the Iranian nation was "a crime against humanity" and "a desperate attempt to impose U.S. whims on Iran."
On November 4, the Donald Trump administration declared the reimposition of the "toughest" sanctions ever against Iran's banking and energy sectors with the aim of cutting off its oil sales and crucial exports.
The sanctions had been lifted under the 2015 nuclear deal, officially known as the Joint Comprehensive Plan of Action (JCPOA).
The first round of U.S. sanctions took effect in August, targeting Iran's access to the U.S. dollar, metals trading, coal, industrial software, and auto sector.
PA/PA