Tehran air pollution incurs annual loss of $2.8b
January 31, 2019 - 0:42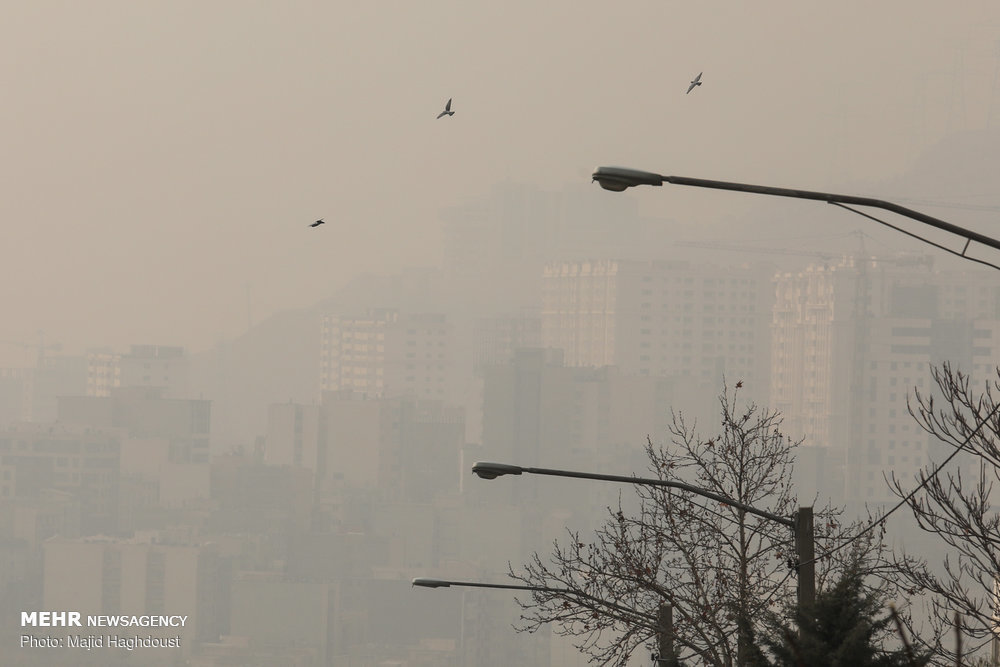 TEHRAN – Air pollution brings heavy economic burden amounting to $2.8 billion for the Iranian capital, Tehran, head of the national working group for air pollution mitigation affiliated to the Department of Environment (DOE) has announced.
Vahid Hosseini made the remarks on the sidelines of the 7th national conference on air and noise pollution management held in Tehran on January 28-29.
The vehicle cycle consisting of manufacturing process to scrapping due to being clunker is the highest contributor to air pollution, as some 70 percent of the emission are generated by mobile sources, he lamented.
The economic consequences of air pollution haunting the metropolis of Tehran equal $2.8 billion per year, as estimated in 2018, he highlighted.
Referring to a proposal on halting production of the pollutant carbureted-engine motorcycles, he noted that according to the proposal approved by the cabinet since 2016, no license plate for carbureted-engine motorcycle should be issued.
Pointing out that we have fought to stop issuing license for carburetor motorcycles for 2 years, he lamented that while 400,000 motorcycles are produced in a year, 700,000 motorbikes have been given license plate during seven months when the proposal approved till went into effect as of September 2016.
Vehicle manufacturers are running business enterprises whose only purpose is to earn money, however, serious punishment must be imposed on car manufacturers or any source contributing to pollution, to ensure that they comply with the environmental standards, he explained.
As of the Iranian calendar year 1401 (March 2022), all the vehicles must be Euro 6 compliant to reduce levels of harmful car and van exhaust emissions, Hosseini said, adding, this also might not come efficient, as the only way to achieve good results is constant monitoring and seriously enforcing the rules.
He went on to say that for instance, in the Iranian calendar year 1392 (March 2013-March 2014), Tehran City Council has approved the proposal to equip the buses with diesel particulate filters, while it has not been yet enforced.
Motorbike owners do not refer to inspection centers to receive quality inspection labels due to no strict law in this regard, he regretted.
The low emission zone (LEZ) scheme, mandating vehicle inspection, to reduce emissions went into effect in the capital on since past three months, he said, adding, there is still no strict measures for the vehicles not referring to the inspection centers.
The first phase of the scheme started in Tehran on September 5, 2016, aiming to mitigate air pollution in the metropolis, which was running from 6 a.m. to 7 p.m. each day except for holidays, while the second phase is set up to run for 24 hours a day.
Elsewhere in his remarks, he said that scrapping clunker vehicles is an important way to curb air pollution, and as long as it depends on car import, it will not go into effect, so that we should remove the old vehicles from the transport fleet regardless of decreased import.
He further emphasized on bikes based on Internet of Things (IoT) placed for the first time in Tehran, and said that we must invest on bike sharing system to reduce the emission and come to an effective solution.
World Health Organization (WHO) asserts that Tehran is one of the most air polluted cities in the world. Tehran is ranked 12th among 26 megacities in terms of ambient PM10 levels. In 2016, the annual ambient level of PM10 was estimated at 77 micrograms per cubic meter. This is almost four times the WHO's recommended threshold of 20 micrograms per cubic meter.
FB/MG