Narges Abyar's love, terror story sweeps awards at Fajr Film Festival
February 12, 2019 - 18:32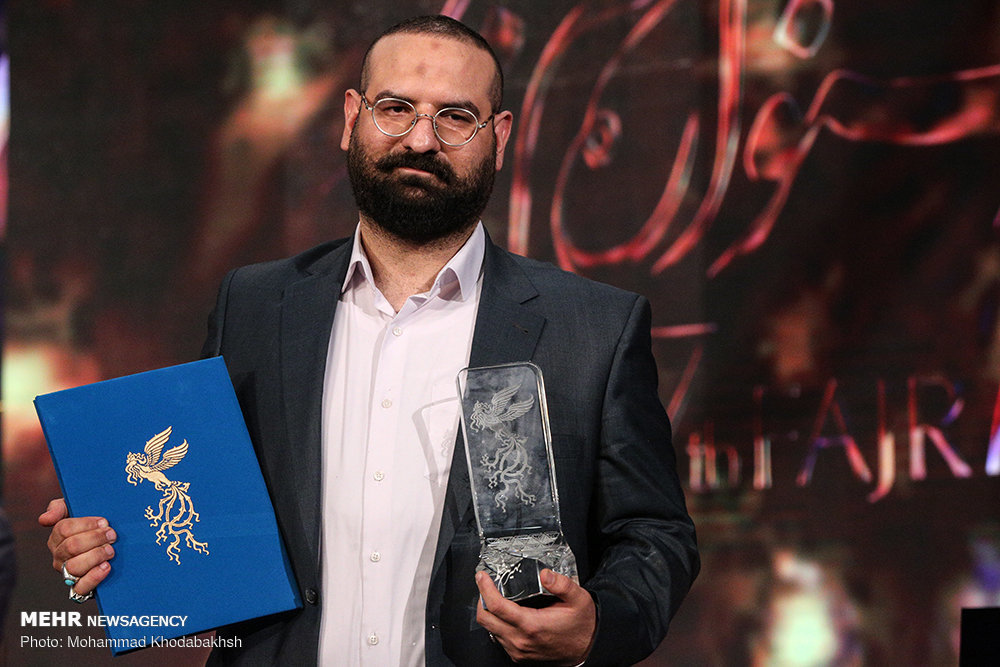 TEHRAN – Narges Abyar's "The Night When the Moon Was Full", a true love story of Jundallah terrorist group member Abdul-Hamid Rigi, won Crystal Simorghs in six categories, including best film and best director, at the 37th Fajr Film Festival, the organizers announced Monday evening.
The film is about Abdul-Hamid Rigi, the younger brother of Abdul-Malik Rigi, the founder and leader of the Jundallah terrorist group in southeastern Iran, who marries Faezeh Mansuri, a woman from Tehran. He forces Faezeh to leave her homeland along with her brother, Shahab, to live in Pakistan where they find themselves involved in Jundallah terrorist activities.
Speaking after accepting her award at Tehran's Milad Tower, Abyars said, "I always became sad that I was never nominated for an award in my country, but this award is really valuable to me and I'm proud of it."
Producer Mohammad-Hossein Qasemi, who is also Abyar's husband, dedicated his award to Azam Mohsendoost, the mother of Faezeh and Shahab who were killed by Jundallah terrorists.
The movie also won Hutan Shakiba the award best actor for playing the role of Abdul-Hamid Rigi.
"Thanks very much from my father and mother for the theatrical lessons I learned from them over 16 years," Shakiba said. "Thanks a lot from the cinema family that let me be beside them."
Elnaz Shakerdoost was crowned best actress for the portrayal of Faezeh. "By this award, I found that this film was worthy of the fighting… In this film, Faezeh represents all the mothers who think of nothing but their children's happiness," she said.
The movie also brought Fereshteh Sadr-Orafai the award for best supporting actress for the portrayal of the mother of the Rigi brothers.
"I wish that our world would change into a world of love against takfir and a world of peace against war," she stated.
Iman Omidvari won the award for best makeup artist for his collaboration in the movie.
The jury composed of filmmakers Mohammad-Ali Bashe Ahangar, Mohammad Bozorgnia, Puran Derakhshandeh and Mohammad Ehsani, cinematographer Mahmud Kalari, film critic Mehrzad Danesh and actress Rima Raminfar presented their special award to director Nima Javidi for his drama "The Indian" about a prison warden who is assigned the task of transferring prisoners to a new building during the 1960s.
Mohsen Qarai and Mohammad Davudi won the award for best screenwriter for their collaboration in "Qasre Shirin" directed by Reza Mirkarimi. The film tells the story of a man who kills a family in a car crash. He chooses to live away from his family after serving a prison sentence. However, he returns home two years later after he learns that his wife is diagnosed as brain dead.
The audience award was presented to "6.5 for a Meter", director Saeid Rustai's drama about a family battling with drug addiction.
Veteran actor Ali Nasirian won the award for best supporting actor for his role in Homayun Ghanizadeh's directorial debut "The Clown".
"I was very lucky to take part in this creative work directed by Homayun Ghanizadeh who is in place of my grandchild and son," 84-year-old Nasirian said.
"He is a promising young director," he added.
Ghanizadeh's movie won the award in New Look, a section dedicated to the directorial debuts. He also received an award in the Art and Experience section.
The Golden Simorgh for best film from the national point of view was presented to producer Mojtaba Faravardeh for "23 Individuals", a true story about 23 young Iranian volunteers who were captives during the 1980-1988 Iran-Iraq war.
Producer Mojtaba Faravardeh (L) receives the Golden Simorgh for best film from the national point of view for "23 Individuals" from Culture Minister Seyyed Abbas Salehi during the 37th Fajr Film Festival at Tehran's Milad Tower on February 11, 2019. (Fajr Film Festival/Moein Baqeri)
he organizer also honored the 22 volunteers who were in attendance at the closing ceremony of the festival. One of the volunteers died several years ago as a result of an illness.
The following is a list of other winners at the festival, which is Iran's most important film event:
Best editor: Bahram Dehqani for "6.5 for a Meter".
Best director of cinematography: Hamid Khozuei Abyaneh for "Gholamreza Takhti".
Best composer: Amin Honarmand for "Qasre Shirin".
Best sound engineer: Iraj Shahzadi for "6.5 for a Meter".
Best sound effects engineer: Mehrshad Malakuti for "Blood Trap".
Best set design: Keyvan Moqaddam for "Gholamreza Takhti".
Best practical special effects supervisor: Iman Karimian for "Blood Trap".
Best computerized special effects supervisor: Javad Motavvari for "The Clown".
Best animated film: "The Last Fiction" by Ashkan Rahgozar.
Best documentary: "Baharesan, the House of the Nation" directed by Babak Behdad.
Best short film: "Pedovore" (Child Eater) by Mohammad Kart.
Photo: Producer Mohammad-Hossein Qasemi accepts the Crystal Simorgh for best film for "The Night When the Moon Was Full" during the 37th Fajr Film Festival at Tehran's Milad Tower on February 11, 2019. (Mehr/Mohammad Khodabakhsh)
MMS/YAW