Iran's Ganjzadeh wins gold at WKF Karate1-Premier League
April 22, 2019 - 1:43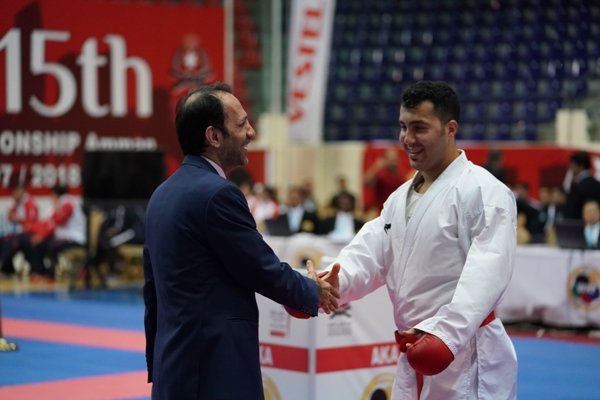 TEHTRAN – Sajad Ganjzadeh from Iran claimed a gold medal at the World Karate Federation (WKF) Karate1-Premier League in Rabat, Morocco on Sunday.
In the male kumite +84kg final match, Ganjzadeh defeated Turkey's Alparslan Yamanoglu 2-0.
His compatriot Ali Asghar Asiabari lost to Ukraine's Stanislav Horuna 9-8 in the male kumite -75kg final.
Saleh Abazari won a bronze medal in the male kumite +84kg after beating EgyptianTarek Mahmoud 2-0.
Taravat Khaksar claimed a bronze medal in the female kumite -55 Kg, beating her Japanese opponent Sara Yamad 2-0.
Hamideh Abbasali took Iran's third bronze in the female kumite +68Kg after defeating Ayaka Saito from Japan 4-0.
The Karate1-Premier League- is the most important league event in the world of Karate. It comprises of a number of the most prominent Karate competitions and endeavors to bring together the best Karate athletes in the world in an open championships of unprecedented scale and quality.
Initiated in 2011 with two tournaments held in Paris and Istanbul, the Karate1-Premier League- has made exponential progress in terms of magnitude and status of the tournaments as well as the number of participants and countries represented.