Tehran gallery hosts anti-bullfighting art show 
April 25, 2016 - 20:14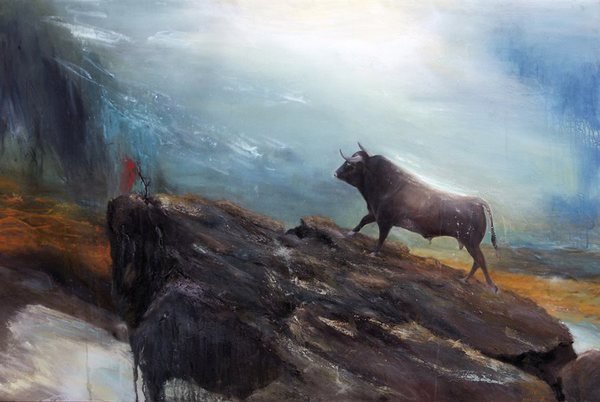 TEHRAN -- Tehran's Vaali Gallery is currently hosting a painting exhibition, which is against bullfighting and animal abuse.
Fourteen works by Iranian painter Ramin Hafizi are on display at the exhibition entitled "Toward a Wild Beginning".
Speaking to the Persian service of ILNA on Saturday, Hafizi called bullfighting scenes irritating and said, "We live in a century with hope for peace and friendship, but unfortunately, the wrongful and disagreeable behavior towards animals still continues."
"Unfortunately, we see people who hold contests between two animals or between a man and an animal, during which the animals are injured," he stated.
"In this collection, I have tried to focus on the wrongful behavior towards animals. For example, cockfighting, which is practiced in some regions of our country or bullfighting in Spain," he added.
He said the animal abuse will "surely" influence human behavior and added, "The extent that we are kind to animals and nature gives us practice in making friendly overtures to each other, and it can also be a beginning for living in peace and friendship."
Hafizi expressed his hope that his exhibition could raise awareness about animal rights and help people be friendly with nature.
The exhibition runs until May 8 at the gallery located at 71 Khoddami St. off Vanak Square.
Photo: A painting by Ramin Hafizi
MMS/YAW
END