Rouhani upbeat over Majlis election results
May 1, 2016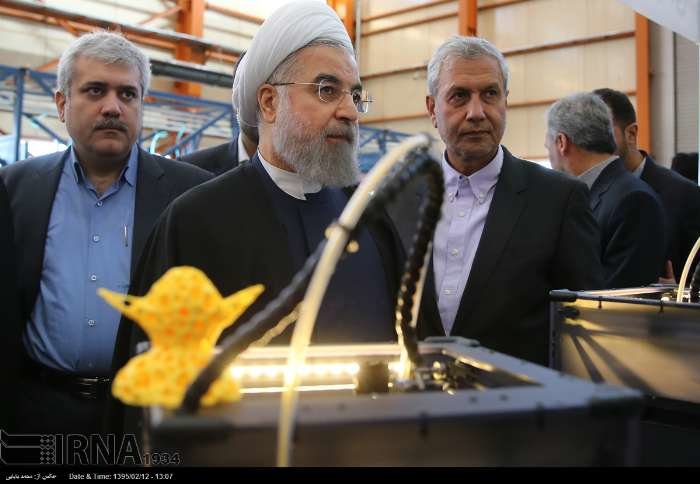 TEHRAN - President Hassan Rouhani on Sunday expressed happiness over the results of parliamentary election which is expected to give him more leeway in advancing his economic policies.
Rouhani said this in a gathering of laborers on the occasion of International Workers' Day, an event celebrated worldwide on May 1 as well as Teacher Day, an annual event named after Martyr Morteza Motahari.
"I congratulate the great Iranian nation on the impressive February and April elections and selecting the best," he said, hoping for a better coordination among the three branches of the government: legislative (parliamentary), judiciary, and executive.
"God willing with more coordination between the Majlis and other two bodies, the administration manages to deliver its election promises."
Finalized first and second rounds of parliamentary elections just hit the spot as more than 41 percent of candidates are moderate-reformist figures, strong enough to cushion the government against the conservative principlist bloc which won only 29 percent of the 290-seat parliament.
President raps nuclear deal opponents
Rouhani also rapped opponents of the nuclear deal for "belittling" the major political breakthrough.
"Why do you belittle the performance of a great nation? This great work was not done by the government, rather by a great, powerful and resistant nation… a work done by all people and the guidance of the Supreme Leader."
Iran and 5+1 countries (the five permanent members of the UN Security Council plus Germany) forged the nuclear deal, formally known as the Joint Comprehensive Plan of Action (JCPOA), in July 2015, ending years of sanctions against Tehran in exchange for restraints on the country's nuclear activities.
"The day we reached the agreement with the 6 world powers, worriers and pessimists said the agreement wouldn't take effect," Rouhani stated.
The deal's proponents used the moniker "worrier" to identify those in the "nay" camp.
Some of these nagging voices were kept being raised by MPs, who saw the pact antithetical to the anti-arrogant and inconvincible spirit of the 1979 Revolution.
However, many of the "nay" figures failed to secure victory in the February parliamentary elections and the ensuing runoff, giving the Rouhani administration more leeway for implementing economic reforms.
Knowledge-based economy is the only way forward
Elsewhere in his remarks, Rouhani laid emphasis on the importance of knowledge-based economy, saying a more efficient and prosperous economy is contingent upon moving toward such orientation.
"Iranian companies should upgrade their compatibility against giant international firms and a healthier economy and better conditions for workers will hang on moving in the direction of knowledge-based economy."
AK/PA