Park on landmark visit to Tehran, economy high on agenda
May 1, 2016 - 22:9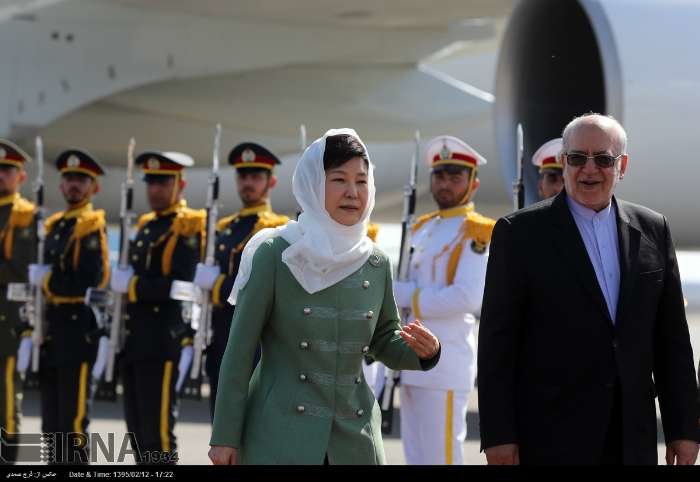 TEHRAN – South Korea President Park Geun-hye arrived at Tehran on Sunday evening, coming under the spotlight in domestic and international media outlets.
President Park's three-day visit assumes both political and economic significance, considering that Iran is emerging from years of sanctions.
Politically, Park is the first South Korean president visiting Iran, showing political maturity, without which the trip might have been delayed to a much later time.
Also, back in November 2015, South Korean Foreign Minister Yun Byung-se met in Tehran with his Iranian counterpart Mohammad Javad Zarif, where the two sides highlighted stronger ties between Seoul and Tehran.
From an economic angle, there are quite strong signs, indicating that Seoul and Tehran are bent on opening a new chapter in already robust bonds.
A strong sign is the 236-strogn delegation accompanying President Park, the largest team ever dispatched to a foreign country.
The lucrative market of Iran is so tempting to ignore and South Koreans know this well. They have been present in the Iranian market long before.
Now with removal of sanctions against Iran, South Korean companies are even thriftier to win ventures in the country.
There are at least three reasons for this: A drop in bilateral trade due to the sanctions imposed on Iran internationally and unilaterally by Seoul, lifting of sanctions against Tehran after the nuclear deal, and finally, the slowing global economy which has influenced the South Korean economy.
The sanctions regime shrank trade to as low as $6.1 billion much lower than $10 billion in 2011. The trade is meager, according to people familiar with the matter, given the two countries' great capacities in different technological and industrial sectors, to name only few.
In a meeting with Iranian Energy Minister Hamid Chitchian in Tehran on Saturday, the Korean Minister of Land, Infrastructure, and Transport Kang Ho-in said his country is determined to enhance trade with Iran to $30 billion.
There are many fertile grounds for the potential to flourish, including energy, technology, industry, transportation, and infrastructure.
Just before the arrival of President Park, more than 17 contracts between the two countries were inked in gas, water, and electricity sectors.
However, South Koreans should bear in mind that trade with Tehran is not a one-way street. Stronger ties with Tehran can help South Korean companies cushion against negative impacts of the slowing global economy.
According to Iranian Ambassador to Seoul Hossein Taherianfar, the export-oriented economy of South Korea has been negatively influenced by the sagging global economy and given this, South Korean companies are looking for foreign markets.
In such situation, Iran can be a golden opportunity, Taherianfar said.
Given the background, there is no doubt that closer relations between Tehran and Seoul are in the interest of both and this requires presidential-level visits.
By Ali Kushki
AK/PA