Gunther Uecker op art adorns Tehran museum
May 9, 2016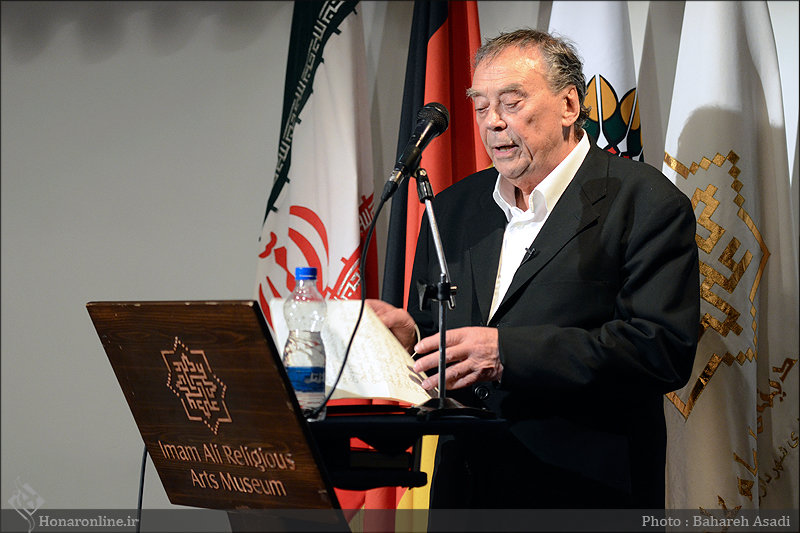 TEHRAN -- Tehran's Imam Ali (AS) Religious Arts Museum hosted Gunther Uecker and a large number of Iranian art enthusiasts for the opening ceremony of the German op artist's exhibition "Tribute to Hafez".
The exhibition is displaying Uecker's collection inspired by the ghazals of Persian poet Hafez.
"I always think about memories from Iran and my friendship with Iranians," Uecker said during the ceremony and added that his deep affection for Hafez led him to create the collection, which he called "a song full of colors."
"The aroma of the heaven in the open meadow of zeal, above which the wind of the Orient blows, drove me to embellish the poems of the poet and place a crown upon his head," he stated.
An envoy of the German Embassy, Marian Schuegraf, also delivered a short speech.
She pointed to a chapel display of Uecker's most comprehensive art and design at the Reichstag building in Berlin and added, "If you want to know how much value Germany places on Uecker, you should visit the chapel in the Reichstag building."
She also called Uecker's "Tribute to Hafez" a tribute to Iran, its people and culture.
The exhibition will run until July 5 and then will move to Germany for another showing.
Photo: German op artist Gunther Uecker speaks during the opening ceremony of his exhibition "Tribute to Hafez" at Tehran's Imam Ali (AS) Religious Arts Museum on May 7, 2016. (Honaronline/Bahareh Asadi)

MMS/YAW
END