Tehran museum displays two antique books
May 11, 2016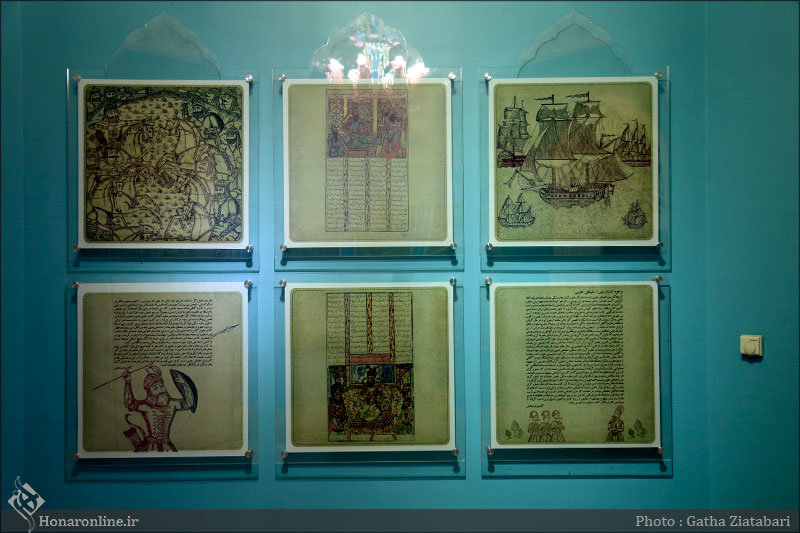 TEHRAN -- Tehran's Malek Museum and Library, one of Iran's richest centers for rare Persian and Arabic manuscripts, put two rare books from its vast archives on display in two separate exhibitions.
One of the books is a lithographic version of Ferdowsi's Persian epic Shahnameh by Mirza Aliqoli Khoi (1815-ca. 1856), the most prolific illustrator of Persian lithographed books in the Qajar period.
"This book shows how an Iranian artist harmonizes his hands with the then new lithographic instruments and leaves a legacy of Iran's modern book illustration for the future generations," Malek Museum and Library Director Seyyed Mojtaba Hosseini said on Tuesday at the opening ceremony of the exhibition for the version of the Shahnameh.
The showcase is part of the Single Work Exhibition, a program that the museum has recently launched to display occasionally a single work from its archive.
The Kitab al-Masalik wal-Mamalik (The Book of Itineraries and Kingdoms) was written by Abu Is'haq Ibrahim ibn Muhammad Istakhri, who lived during the ninth and tenth centuries.
"This manuscript is one of the many Iranian antique books that show Iranians knew the earth is spherical and orbits around the sun," Hosseini said.
The National Library and Archives of Iran holds a Persian version of the book, which was added to UNESCO's Memory of the World Register in October 2015. The Arabic version is kept at the library of Germany's Goethe-Institut.
By this program, the Malek Museum and Library showed how organizing an exhibit with a single work is practical, Hosseini stated.
Photo: Copies of pages from the lithographic version of Ferdowsi's Persian epic Shahnameh by Mirza Aliqoli Khoi are on display in an exhibition at the Malek Museum and Library on May 10, 2016. (Honaronline/Gatha Ziatabari)
MMS/YAW
END