Humor therapy by theatrical group in Kahrizak Hospice 
May 16, 2016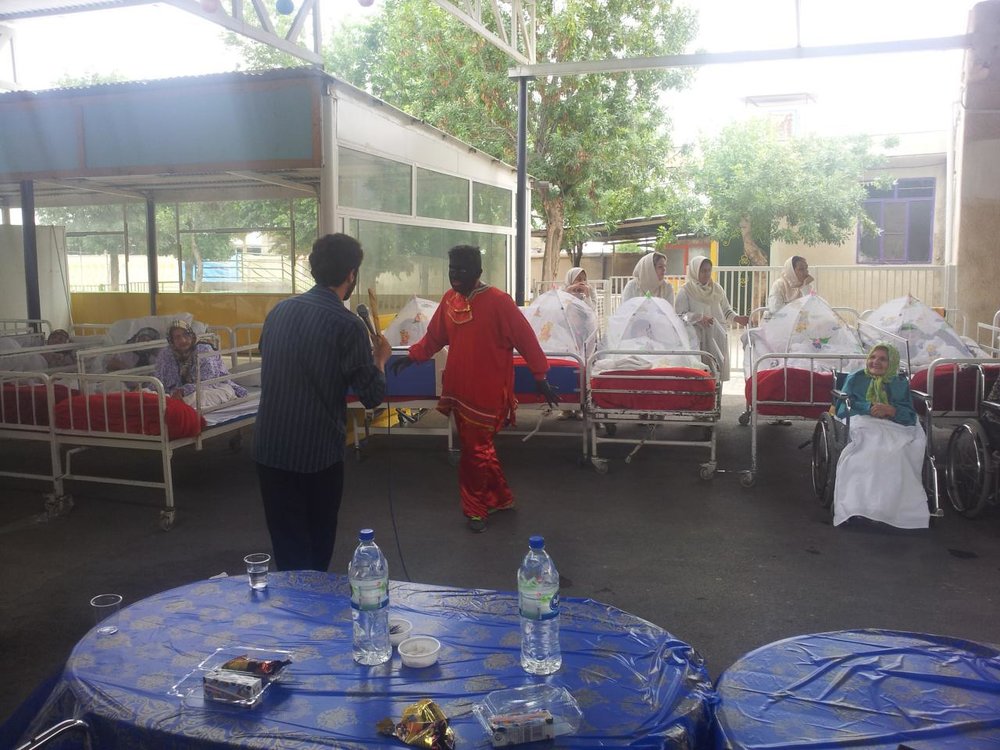 TEHRAN - Khodkar-e Asemani theatrical group brightened up patients' day in Kahrizak Hospice, one of the great medical institutions in southern Tehran on Thursday.  
By Marjan Golpira
A number of senior citizens at the hospice were convened to watch a Siah-Bazi, a type of Iranian folk performing art that features a blackface, mischievous and forthright harlequin that does improvisations to stir laughter.
With their presence and performance, the group selflessly cheered up the sick people, who desperately needed to take their minds off their health condition and great pain.
Mehdi Baqeri, who was leading the group, said he was overjoyed "seeing the joy and wonderment in the face of so many of patients."
Still awaiting his son's arrival
At the hospice, an old man would mistakenly call one of the male performers by his son's name. His nurse confirmed that he perceives any male walking into the ward as his son, anticipating for him to arrive.
Although laughter wiped away the old man's tears and soon he forgot his anguish, his eyes were still glued to the nursing home's door.
Awaiting to go home
Elsewhere as one of the performers took the shaky hand of an older woman to guide her to her room, she turned and said, "Dear, are we going back home to my children?"
Baqeri said everyone choked up instantly. "Tears welled up in our eyes, thinking about how on earth children of senior citizens could abandon their parents in old age when they need them most."
The day ended with bittersweet memories of patients of the hospice, where injecting healing humor should be considered seriously.