Rouhani greets new ambassadors, calls for stronger ties with Paris
May 17, 2016 - 17:31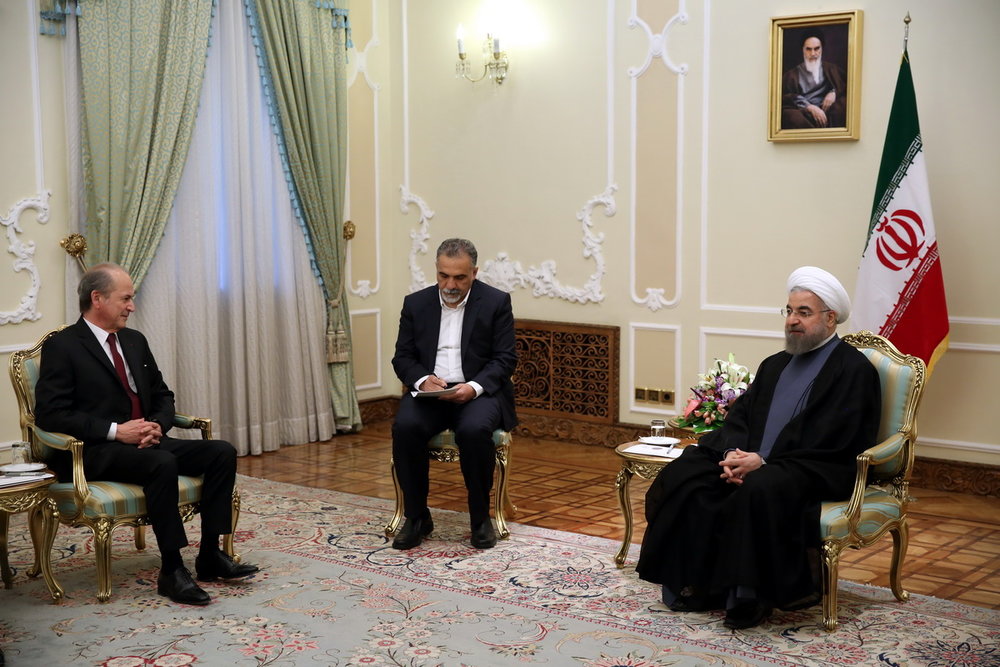 TEHRAN - President Hassan Rouhani received on Tuesday credentials of new ambassadors to Tehran of France, Slovakia, Azerbaijan, and Indonesia with calls for expansion of ties with the countries. The newly appointed figures will certainly have more demanding missions compared to their outgoing comrades considering that Tehran is emerging from the shadows of international trade sanctions.
President says new chapter opening in Paris-Tehran relations
Receiving credentials from Francois Senemaud, the new French ambassador, Rouhani said a new chapter is opening in relations between Tehran and Paris and expeditious implementation of joint agreements signed during his January visit to Paris can deepen partnership.
In January, the Elysee presidential palace rolled out the red carpet for President Rouhani, who signed billions of euros worth of deals at a special ceremony at the palace. At a press conference, President Francois Hollande declared, "A new chapter of our relations is opening today."
Referring to numerous grounds for cooperation, Rouhani called for upgrading the level of economic, cultural, political, and regional exchanges.
Rouhani also noted with Tehran and Paris growingly unified, it would be more possible to restore stability in the region as a peaceful Syria and Iraq will be in the interest of France and Iran both.
Also, Senemaud expressed France's determination to deepen relations with Tehran in all fields, saying, "France will spare no effort in quick implementation of the deals reached between the two sides."
Pointing to Rouhani's visit to Paris, Senemaud underscored that "new dynamics have emerged in Tehran-Paris ties as a result of the visit which need to be preserved and strengthened.
It takes time to indicate how capable the newly appointed French ambassador to Tehran is in reconstructing his country's image in Iran after Paris took a hard line during the Iran nuclear talks.
Rouhani backs opening joint commerce chamber with Slovakia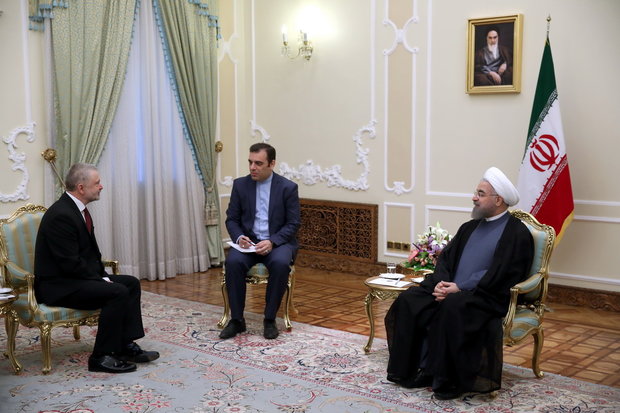 In a separate meeting, President Rouhani shook hand with Lubomir Golian, Slovakia's new ambassador to Tehran, saying opening a joint chamber of commerce between the two countries will beef up bilateral trade.
Noting that Slovakia will preside over the next Council of the European Union, Rouhani stated the opportunity can be a catalyst for expediting Tehran and EU relations.
Golian, for his part, went over his priorities during his mission in Iran, emphasizing "Slovakia is determined to promote multilateral partnership with the Islamic Republic of Iran."
As the next president of the EU council, Slovakia will take whatsoever measures to uplift bonds between Iran and the EU, Golian remarked.
Rouhani calls for 'serious boost' in relations with Azerbaijan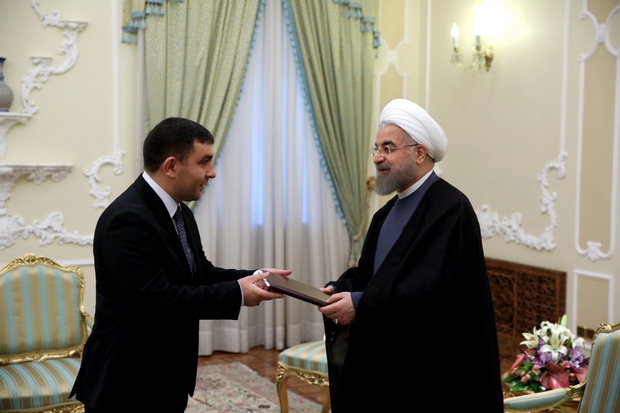 Tehran and Baku should give a serious boost to bilateral relations, President Rouhani told the new Azerbaijani Ambassador to Tehran Bonyad Hoseinov.
Rouhani also said the post-sanctions situation in Iran should be grabbed to enhance bilateral cooperation more than ever.
"There are many bilateral agreements and projects whose implementation can mark a positive change in improving relations," he stated.
Submitting his credentials to Rouhani earlier in the meeting, Hoseinov stressed his country has never doubted Iran's friendly approach.
He underlined that boosting bilateral, regional, and international cooperation will benefit the nations and governments of the two neighboring countries.
Iranian and Azerbaijani officials signed 11 memorandums of understanding (MOUs) on the sidelines of a meeting between Azerbaijani President Ilham Aliyev and Rouhani in Tehran on Feb. 23.
Tehran ready to expand ties with Indonesia: Rouhani

On the hectic day, the president also accepted credentials from Kata Venu Alimudin, new Indonesian ambassador to Tehran, drawing attention to opportunities for Iran and Indonesia to develop ties particularly in the economic sector.
"Iran is ready to boost ties with Indonesia in technical-engineering services and joint investment in other sectors including energy, dam construction, and refinery," the president was quoted as saying.
For his part, Alimudin referred to historical and friendly relations between Tehran and Jakarta, saying his country is interested in benefiting from Iran's know-how in engineering fields.
AK/PA