Tehran's Sacred Defense Garden Museum opens panorama section
May 22, 2016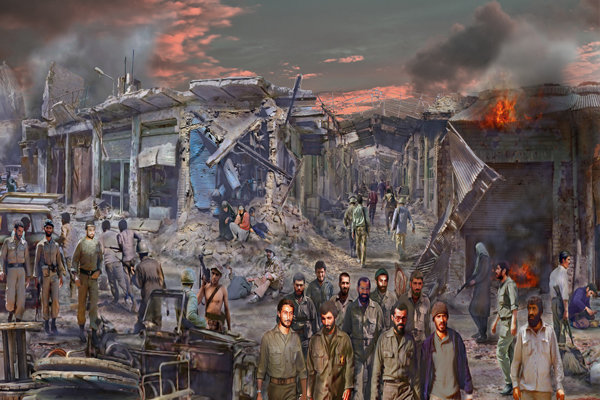 TEHRAN – Tehran's Sacred Defense Garden Museum opened a panorama museum on Sunday by displaying scenes from a huge painting on the liberation of Khorramshahr.
The 25-meter-high painting has been created by Iranian artist Nasser Palangi. It showcases the days the city of Khorramshahr was captured by Iraqi forces on October 26, 1980 during the 1980-1988 Iran-Iraq war until it was liberated on May 24, 1982.
The huge painting, which was produced within a period of five years, covers an area of 106 meters and contains over 1000 scenes, the Persian service of MNA reported on Sunday.
The Sacred Defense Garden Museum is located in Taleqani Park near Haqqani Highway.
Photo: A scene from the panorama of the liberation of Khorramshahr at the Panorama Museum of Tehran's Sacred Defense Garden Museum
RM/YAW
END