Friends celebrate 74th birthday of cartoonist Kambiz Derambakhsh
May 28, 2016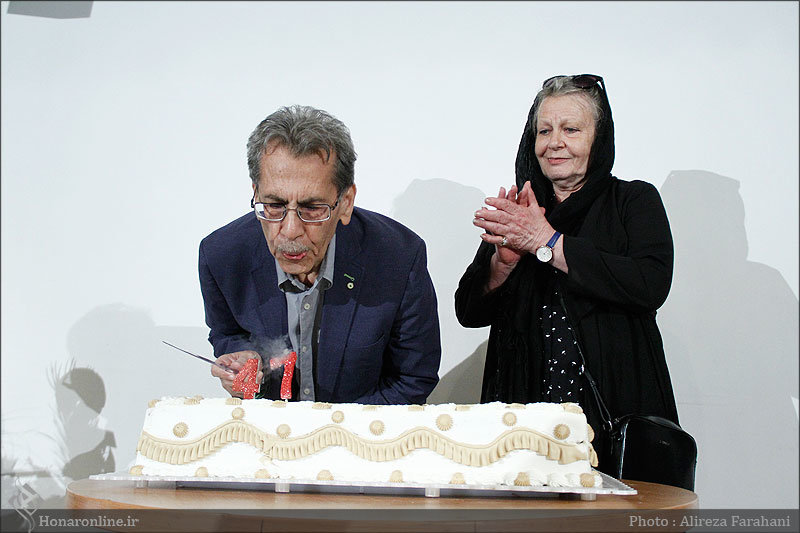 TEHRAN – Friends, fans and relatives gathered at Tehran's Imam Ali (AS) Religious Arts Museum on Friday to celebrate the 74th birthday of Kambiz Derambakhsh, a cartoonist famous for his quick and simple cartoons.
The cartoonist thanked his wife, son and daughter who have tolerated the difficult days with him over the years and expressed his thanks to Mahmud Salahi, the Art and Cultural Organization of Tehran Municipality director, for his special attention and care to artists, the Persian service of Honaronline reported on Saturday.
"The birthday celebrations held annually at the museum are the most precious things I have seen over these years," Derambakhsh said, adding that he is not sad about his age and he believes that a young boy of 18 is still living and working inside his body.
He also paid tribute to painter and illustrator Parviz Kalantari who died last week and called the artist a piece of the puzzle of Iran's contemporary art. "He was a wonderful man and a great artist, and I want to remember his name here at this ceremony," Derambakhsh remarked.
He went on to say, "I was always busy with painting ever since I was a child. I used to draw on everything; I drew on all the pillows and sheets at home. I was 14 when I began my collaberation with a magazine. I used to wake up at 6 in the morning and make the drawings, and deliver them to the office and then leave for school.
"The drawings used to take a long time to dry. We had a hard time working and nobody helped one another. I am telling these things to let the youth know that their work is much easier now so instead they can spend more time studying," the artist explained.
Veteran graphic designer Bahram Kalhornia was the next speaker on stage. He called Derambakhsh an artist whose works are a great treasure of unique (Persian) literature.
In his brief words Salahi also said the celebrations are arranged so that families and friends of the artists gather and meet each other. "We intend to remind others that one more year in the artistic life of an artist has passed," he remarked.
RM/YAW
END