First Kiarostami prize awarded to "Fish and Cat" director
July 24, 2016 - 19:2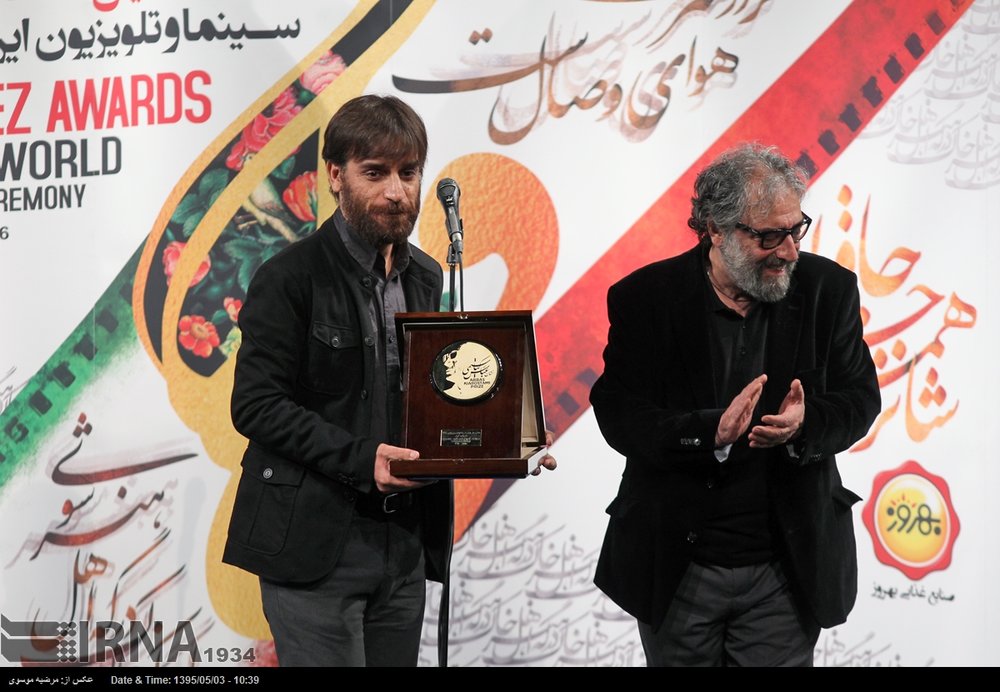 TEHRAN -- The director of the acclaimed movie "Fish and Cat", Shahram Mokri, has won the Abbas Kiarostami Prize, which was established by the organizers of the 16th Hafez Awards this year to be presented to an innovative filmmaker in honor of Abbas Kiarostami, the renowned Iranian filmmaker who died early in July.
The Hafez Awards was held at Tehran's Vahdat Hall on Saturday night and Mokri received the award from veteran director Masud Kimiai, who was deeply affected by Kiarostami's death.
"The name of Mr. Kiarostami has always earned credit for Iranian cinema," Mokri said after accepting the award.
The Hafez Awards is organized annually by the Persian cinematic monthly Donya-ye Tasvir (Picture World) to honor the best productions in Iran's motion picture industry and television.
Saeid Rustai directorial debut feature "Life+1 Day" about poverty and drug abuse was named best film and producer Saeid Malekan received the award from director Saman Salur and actors Ali Owji and Samira Hassanpur.
The film also brought the award for best screenwriter to Rustai while leading star Navid Mohammadzadeh shared the award for best actor with Farhad Aslani, the star of "Binam Alley".
"Life+1 Day" also won Bahram Dehqani the award for best editor.
Mahtab Keramati was crowned best actress for her role in "Ice Age".
The Hafez Award for best director went to Alireza Raissian for "Time to Love".
"Now, Kiarostami is no longer among us, then let Taqvai, Beizai and Mehrjui make films," Raissian asked Iranian cultural officials after accepting the award.
Director Saman Moqaddam was honored with the jury special award for his comedy drama "Sperm Whale" and Christophe Rezai won best composer award for his collaboration on "What's the Time in Your World?" by Safi Yazdanian.
The award ceremony went on with honoring Jamshid Hashempur, the star of Iranian thrillers of the 1980s and 1990s, for his lifetime achievments.
In the section for TV productions, the award for best director was presented to Hassan Fat'hi for his popular series "Shahrzad".
Ali Nasirian won the award for best actor for his role in the series that centers on a love story set in Tehran during the early years of the 1950s when Iran encountered one of its darkest historical periods.
"Shahrzad" was also selected as best series and producer Mohammad Emami received the award from actress Behnush Tabatabai and makeup artist Abdollah Eskandari.
The award for best actor went to Ahmad Mehranfar while Nasrin Nosrati received the best actress award, both for their roles in the comedy series "Paytakht 4".
Masud Behbahaninia received the best screenwriter for his collaboration on the series "Kimia".
Comedy actor and director Mehran Modiri was named best TV figure.
"Trucker and the Fox" by Arash Lahuti and "Pruning Season" by Loqman Khaledi shared the award for best documentary.
Photo: "Fish and Cat" director Shahram Mokri (L) accepts the Abbas Kiarostami Prize during the 16th Hafez Awards at Vhadat Hall in Tehran on July 23, 2016. Director Masud Kimiai is also seen in the photo. (IRNA/Marzieh Musavi)

MMS/YAW