Tehran hopes brainstorming with Russia, Turkey will end Syrian impasse 
August 15, 2016 - 21:37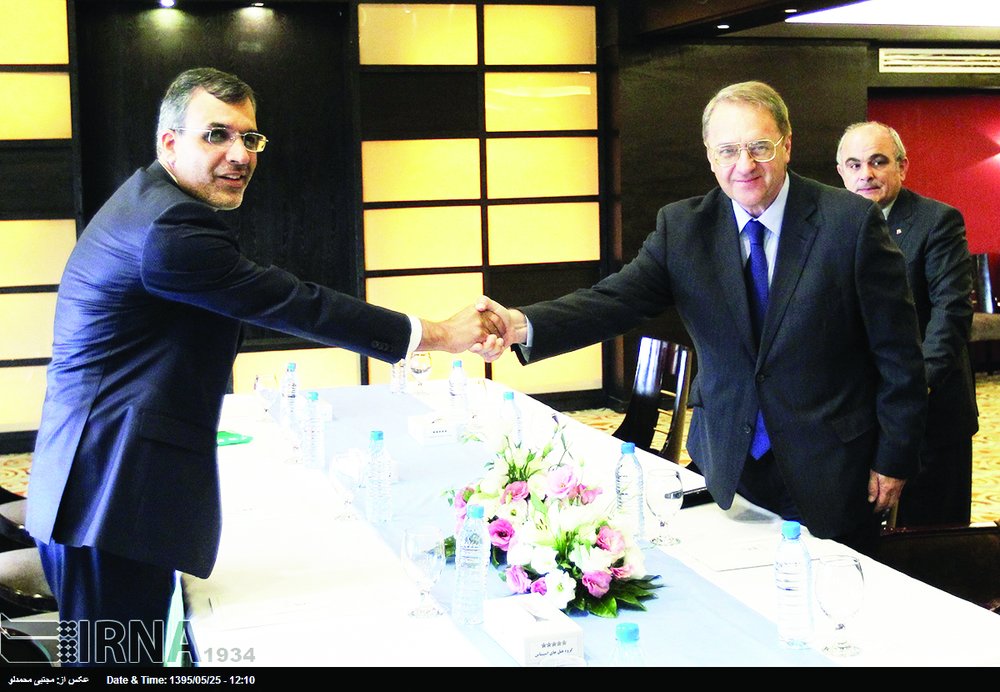 TEHRAN – Iran's deputy foreign minister for African and Arab affairs has hoped intensive negotiations between Tehran, Moscow, and Turkey will set the scene for a peaceful Syria, saying he will be visiting Russia and Turkey in the near future to discuss regional developments. 
"We will keep exchanging views with our friends in Turkey, Russia, and other regional and international players which can contribute to all to take a new path," said Hossein Jaberi Ansari on Monday, speaking at a press conference after a meeting with his Russian counterpart Mikhail Bogdanov in Tehran.
"Iran and Turkey agreed to continue negotiations. I also will visit Russia soon."
Turkey used to be at odds with Iran and Russia over Syria. While Tehran and Moscow espouse Bashar al-Assad as Syria's president, Ankara was less well-disposed toward the current Syrian government at least until before the July coup in Turkey.
However, Ankara has recently been mending fences with Russia, showing more flexibility to a peaceful solution to the Syrian crisis.
Ansari also warned all regional and international players against prolongation of the current situation in Syria.
"The prolongation of the crisis benefits none of the regional countries and even international ones who may think the current situation is in their interest."
"Some regional players see continuation of conflict and domestic confrontations in the region in their interest, making it difficult to reach a complete consensus, but if a consensus between the bulk of players is achieved, it paves the way for finding a way out of the deadlock."
'Multi-pronged effort being made'
Elsewhere in his remarks, Jaberi Ansari stressed that rather than form blocs and coalitions, Tehran sees it of paramount importance to find a common ground to build upon to halt the crisis.
"We are not necessarily seeking coalitions, frameworks, and cliques. Iran is doing its best to reach at a mutual understanding based on principles shared by other regional and international players or most of them," the Iranian diplomat pointed out.
Elements of this common understanding will prevent fragmentation of Syria, including "keeping the territorial integrity of Syria, a nationally united sovereignty, formation of a national government, and respect for the Syrian people's right to determine their fate," Ansari pointed out.
"A multi-pronged effort is being made in the region as it has been the case previously, of course," he said, rejecting that the negotiations should be taken to mean talks with UN special envoy for Syria Staffan de Mistura has reached a standstill.
Regional development discussed with Russian envoy
On themes of his meeting with Bogdanov, the Iranian diplomat said, "In the meeting a range of issues related to the latest regional developments in western Asian and northern Africa were discussed."
"The latest developments in Syria, Yemen, Bahrain, and Palestine were discussed in the meeting."
"Iran and Russia follow a policy of peacefully resolving current regional challenges ...," he stressed.
The Russian deputy foreign minister also talked to Iranian Foreign Minister Mohammad Javad Zarif on Monday, stressing the importance of closer consultation between Iran and Russia on ways to resolve the crisis in Syria.

AK/PA