Iran's Rahman plans to participate in more powerlifting events
October 29, 2016 - 11:54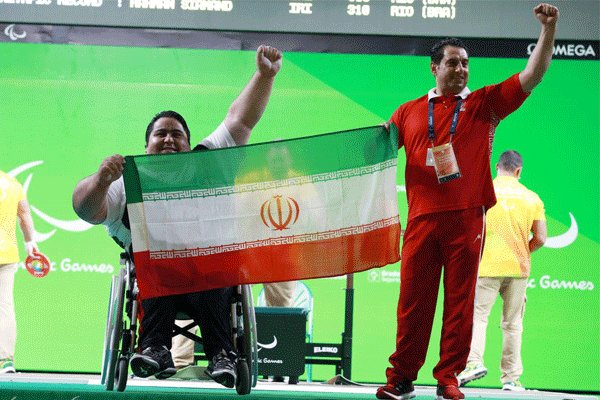 Happiness. That is simply what Siamand Rahman felt when he realized he had broken the men's over 107kg world record at the Rio 2016 Paralympic Games, breaking the 300kg barrier and going even further with an astonishing final best lift of 310kg.
Anticipated in Brazil as one of the athletes to watch, as someone who could add to the history of the first South American Paralympics – 28-year-old Rahman exceeded expectations and bagged his second Paralympic gold medal.
Just over a month later it is time to look back but also forward to new challenges for the Iranian.
"I always speak to my parents regarding my physical condition before an event and a performance. I talk to them about the situations I have to deal with and they help me out. I did talk to them about making history in Rio that day, we know it could happen. Thank God, and all the exercises I made preparing for the Paralympics, I could achieve my goal," Rahman told Paralympic.org.
"As soon as I realized I had broken the 300kg I thought about my countrymen, and also about the sports fans all around the world. It was a magic moment."
But Rahman did not stop there. He returned to the bench to try for more.
"During the last one and a half year, enjoying the assistance and support of the Iran's Sports Federation for the Disabled and the IR Iran NPC, I hit my best results in the training camps, when I was aiming at setting a historical record. Such trainings and also the promise to make history for my people, created such a feeling within my body I felt I had to keep going, that I could go for more," Rahman recalled.
The reaction in Iran since his return is even spurring Rahman on. The 2017 season will bring the World Para Powerlifting Championships in Mexico City.
"I was welcomed uniquely by my hospitable and warm countrymen," he said. "This kind of embracing and attention to my records provided me with double the motivation to keep continue my training and also for setting other records."
Further to Tokyo 2020 we can expect to see Rahman more motivated than ever.
"Surely, I keep with my elite training under the supervision of my coaches and I plan to participate in the powerlifting events to collect colorful medals as I trust in God," he said.