Symphonic poem "Land of the Heroes" performed at Vahdat Hall
January 3, 2017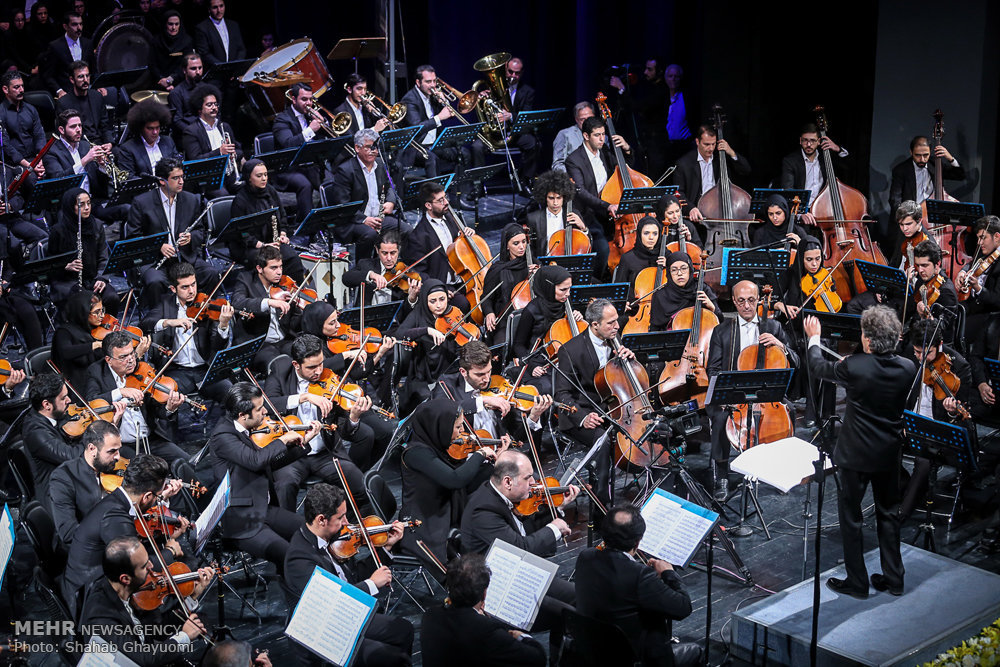 TEHRAN – The Tehran Symphony Orchestra under the baton of conductor Shahrdad Rohani performed the symphonic poem "Land of the Heroes" at Vahdat Hall on Monday.
"Land of the Heroes" also named the Symphony of the Prisoners of War (POW) was composed by musician Ahmad Pejman. The choir of the Tehran Symphony Orchestra directed by leader Razmik Ohanian accompanied the orchestra.
Minister of Culture and Islamic Guidance Reza Salehi-Amiri, Telecommunications Minister Mahmoud Vaezi, Deputy Culture Minister for Artistic Affairs Ali Moradkhani and a number of Iranian POWs sat to watch the concert, Persian media reported on Tuesday.
Poet Abdoljabbar Kakai, who composed the poetry of the symphonic poem, also recited parts of the poetry during the performance.
"Worship", "Beginning of Battle," "In Captivity" and "Celebrations" were the four movements of the symphony performed for the audience.
At the end, the performance received rapturous applause from the audience and was followed by a short speech given by Shahrdad Rohani.
Addressing the audience, Rohani said, "This symphony is dedicated to those dear prisoners whose sacrifice saved this land. Works by musicians need to be supported more and these compositions must be heard in every part of the country."
The culture minister also praised production of such compositions in honor of the Iranian heroes and POWs.
"Tonight was a beautiful night, which certainly highlighted the efforts made by the musicians who have tried to honor Iranian prisoners of war during the years of Sacred Defense (the 1980-1988 Iran-Iraq war known as Sacred Defense in Iran).
"Today we need to increase development of music groups, especially the orchestra. Our young generation needs to experience more joy, and music is one of the best means to achieve that," he added.
Photo: Shahrdad Rohani conducts the Tehran Symphony Orchestra performing the symphonic poem "Land of the Heroes" at Vahdat Hall on January 2, 2017. (Mehr/Shahabeddin Qayyumi)
RM/YAW